Togwotee Snowmobile Adventures

FULL-DAY NATIONAL FOREST TOURS
---
CONTINENTAL DIVIDE/TOGWOTEE PASS – SCENIC TRAIL RIDE OR POWDER RIDE
Explore the Continental Divide trail system – the #1 spot in the country for snowmobiling! Famous for its wide-open, powder-filled meadows, 600 miles of groomed trails, and breathtaking scenery, there is something here for everyone—from brand new riders to serious powder hounds. Get ready for breathtaking scenery and some of the best snowmobiling of your life.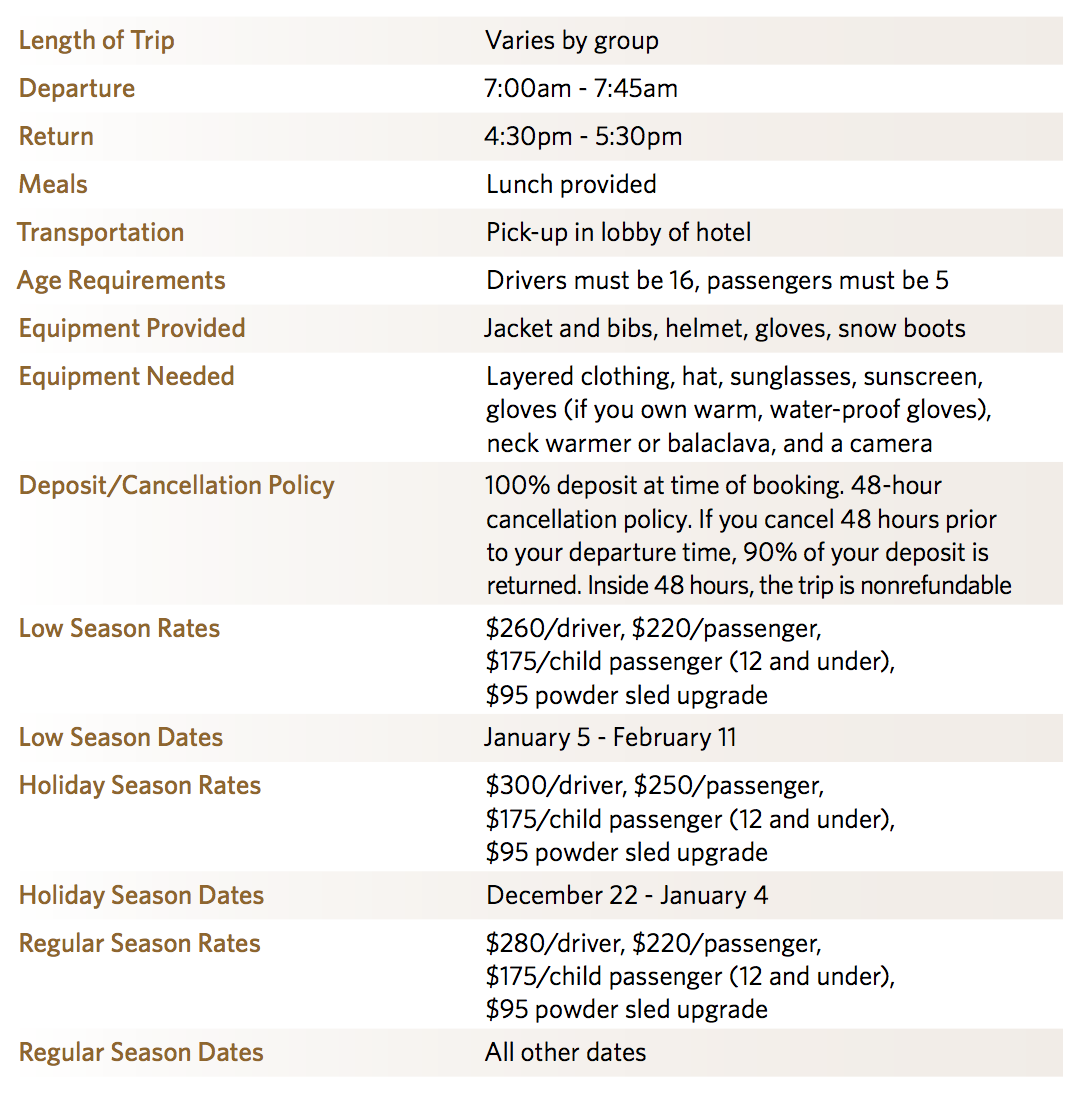 BROOKS LAKE TOUR
Visit Brooks Lake Lodge, a delightful historic lodge set on the shores of Brooks Lake, to dine for lunch under the towering Breccia Cliffs and Pinnacle Buttes. At 9,200 feet, you can only get to this secluded gem by snowmobile—which means gourmet food, magnificent scenery, and remote luxury.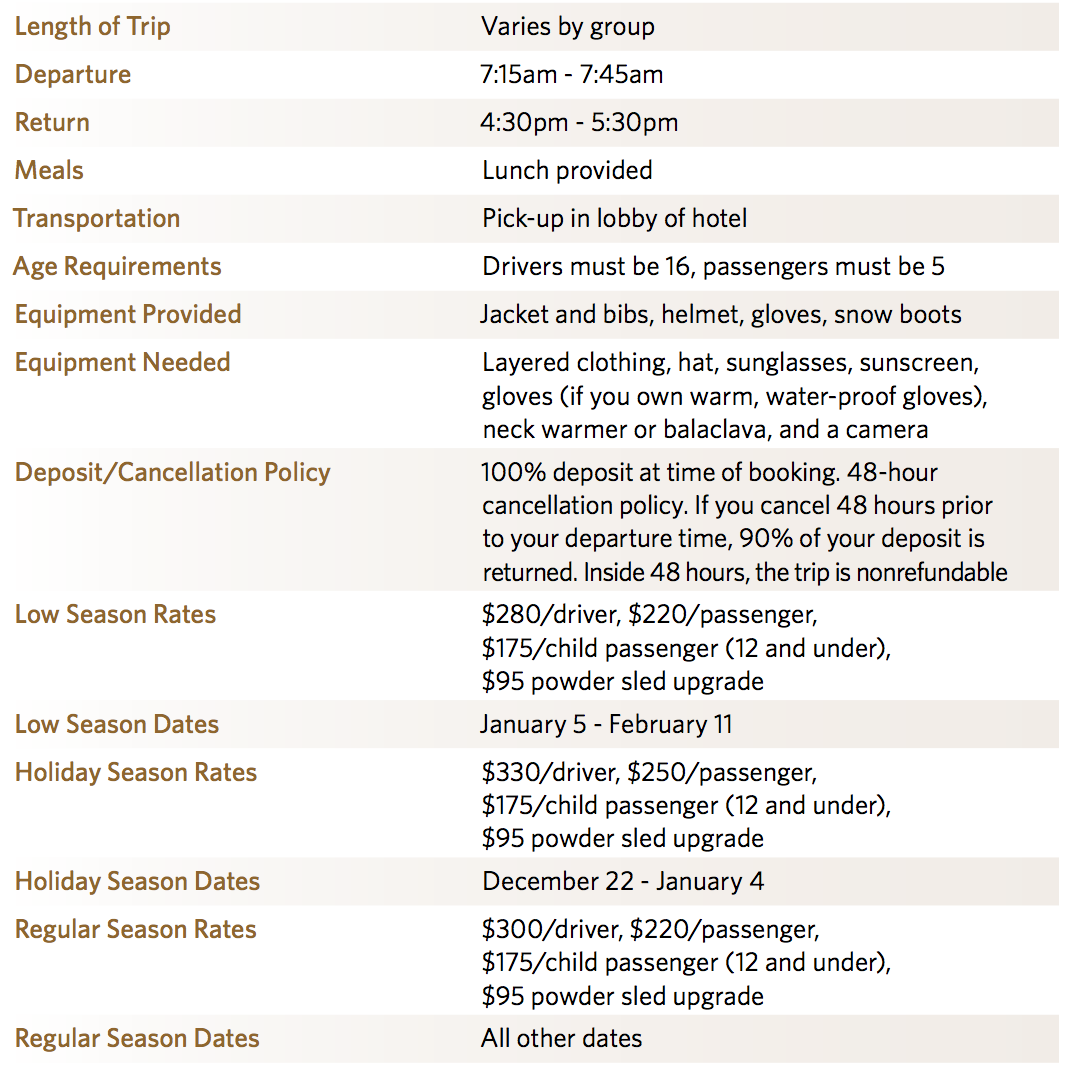 GRANITE HOT SPRINGS FULL-DAY TOUR
This is a great trip for families and first-timers. Soak in the pristine Granite Hot Springs. Truly an awe-inspiring and relaxing day. Great for first-timers, families, romantics, and those looking for a relaxing day with some fun on a snowmobile.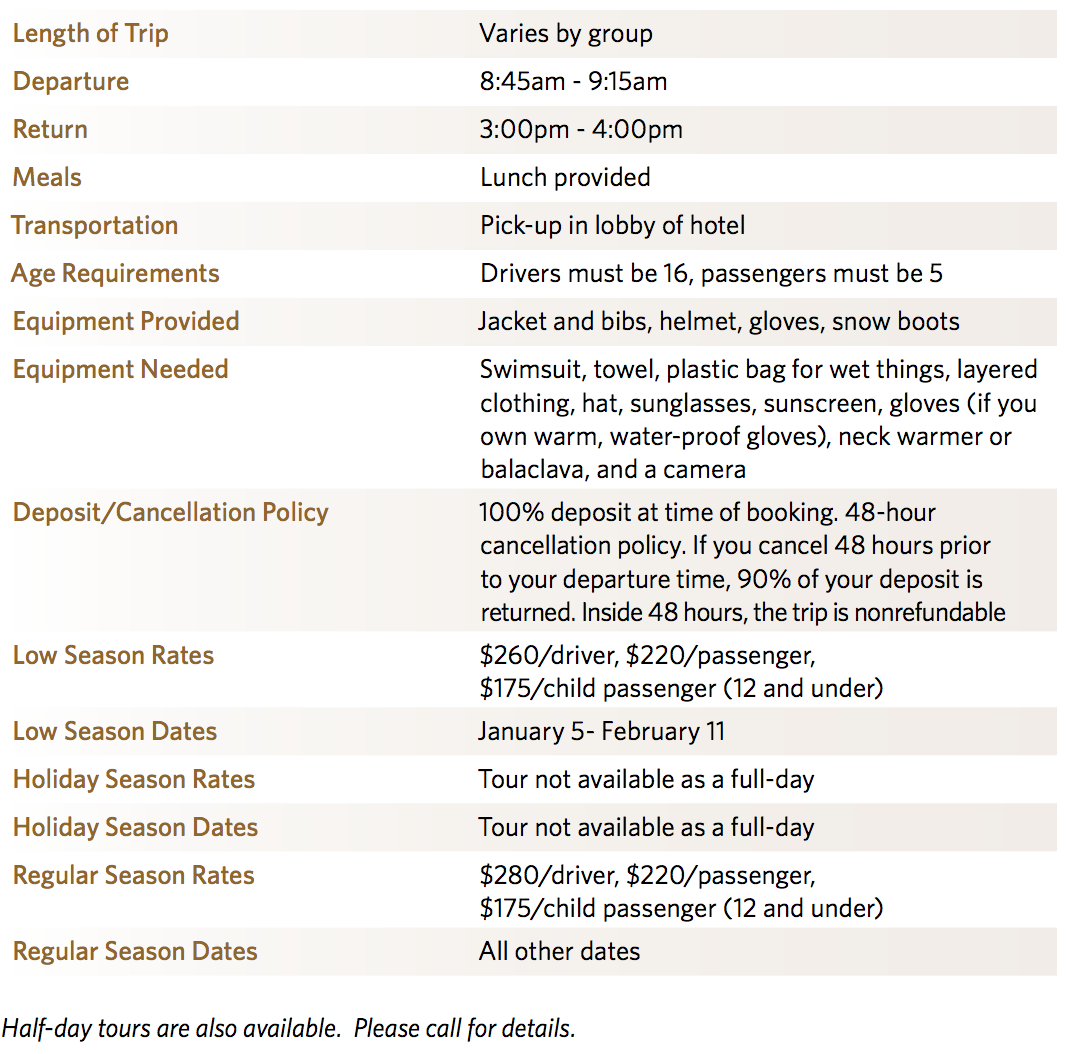 GREYS RIVER FULL DAY TOUR – RELAXED RIDE OR AGGRESSIVE POWDER RIDE
The path-less-traveled alternative to Togwotee Pass, this trip has it all! Beautiful views for a scenic trail ride. You'll travel the banks of the stunning Greys River to lunch at the Box Y Ranch—a historic hunting lodge. Spectacular mountains, river vistas and the potential for wildlife sightings make this a ride you will never forget!
HALF-DAY NATIONAL FOREST TOURS
---
Our half-day adventures are the perfect way to experience snowmobiling without missing a whole day on the slopes.
HALF-DAY TOUR
This is a great trip for families, first-timers, and anyone looking to soak in the beauty of Wyoming! Snowmobile into the pristine 104-degree Granite Hot Springs. This is a wonderful tour for some R&R with the family that takes you by sheer Granite cliffs towering thousands of feet overhead on either side of the beautiful canyon.
HALF DAY WILDLIFE TOUR IN THE GROS VENTRE (pronounced grow-vaunt)
Take a relaxed ride through one of Wyoming's best winter wildlife sanctuaries. Elk, deer, moose, big horn sheep, eagles, coyotes, and wolves are usually in abundance. As if that wasn't enough, you'll be surrounded by the gorgeous views of the beautiful Gros Ventre Mountain Range.
TETON HALF-DAY TOUR
Starting about 30 miles North of Jackson, this is an excellent trip for your family's first snowmobile experience. It's also great if you want a shorter ride so you can hit the slopes for a few afternoon runs. This tour offers wonderful scenery with Teton views (weather permitting) and the potential for wildlife sightings. The ride is on a groomed trail and offers stops for photos.