Search
Vacation Rentals
Hotels
Car Rental
Airfare
Featured Properties
---
---
Jackson Hole Reservations: Vacation Rentals, Rental Homes, Rental Condominiums, and Hotels in Jackson Hole, Wyoming.
Call Jackson Hole Reservations today at 800-329-9205 to speak with our experienced agents. We are ready to help you find jackson hole accommodations, and we have helped tens of thousands of clients over the past 18 years plan their vacations. We are the largest and most respected central reservations company in Jackson Hole and we are committed to providing you with the best service possible as you visit Jackson Hole Wyoming.
Our website is the best place to book Jackson Hole vacation rentals online or you can call us and we will place you in the right jackson hole vacation rental.

Now is the time to visit Jackson Hole! With With our fantastic Lodging Specials, you can still save money and travel to the beautiful Grand Tetons in Jackson Hole Wy.
Call us today at 1-800-329-9205 for exact details, availability, and pricing details !!
---
Hi Katrina, I just wanted to say thank you again for sorting out my accommodation and ski pass ticket for my trip to Jackson Hole. Your suggestions of things to do and where to eat / hang out were also extremely helpful and I managed to do most of them! The skiing was just world class, the atmosphere in the mountain was just a great vibe, I really enjoyed the charm of Jackson village and the staff at the White Buffalo Club were so accommodating, helpful and fun to hang out with. The hotel itself was also of a very high standard and much better value for money than what I am now paying in a Snowbird! Kind regards David
David - Apr, 2014
Thanks for all your help Jodie! You guys have all been so helpful and made this so seamless for us getting us our last minute vacation!
Lauren Z. - Dec, 2010
Thank you very much for your patience, and all you have done so far. I have read some wonderful reviews on how helpful you have been to several of your clients who have rented through you, and now I understand why. We look forward to working with you!
Jan Dyle - Jan, 2016 Helena, Alabama
My friend and I are going to Yellowstone the first week of June and had no idea where to go. We stumbled across your online chat and Jill was wonderful. We booked one of the condos she suggested and are really looking forward to our trip. Yours truly P. Parker
P. Parker - Apr, 2013 Albuquerque, NM
Your prompt service (and the company's online chat) was outstanding. I was about to book another house, but given I preferred this one and your service was so spot on I went with Fisher House.
C. Shammall - Apr, 2015
---
Jackson Hole Weather Forecast
Thursday
Thunderstorms
Lo:
42°F
Hi:
62°F
Friday
Partly Sunny
Lo:
42°F
Hi:
65°F
Saturday
Mostly Sunny
Lo:
44°F
Hi:
70°F
Sunday
Mostly Sunny
Lo:
46°F
Hi:
76°F
Monday
Partly Sunny
Lo:
46°F
Hi:
76°F
---
From Our Blog
Art Fair Jackson Hole 2016
This weekend marks a half century of art in the park as the Art Association of Jackson Hole presents Art Fair Jackson Hole. Miller Park is transformed from a quiet picnic spot and playground for the kids into a world premiere art fair that boasts 150 artists representing 20 states as well as some local …
Continue reading

Art Fair Jackson Hole 2016
... Read More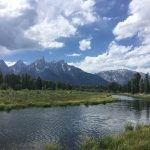 Schwabacher's Landing
Channel your inner Ansel Adams, pack up the car with gear, supplies, and family and head to Schwabacher's Landing in Grand Teton National Park to get that epic photo of the Tetons. Schwabacher's Landing is a boat landing for those looking to float on the Snake River, but a short hike from the parking lot …
Continue reading

Schwabacher's Landing
... Read More
---
We are the valley's Central Reservations wholesaler with local agents that know all the best secrets and discounts for
specials, getaway vacation rentals, ski packages and more. Since 1997, we have offered rental homes & rental condos for property rentals to thousands of satisfied customers. We have the largest selection for rental condos, homes and town homes available anywhere. Call Us Today at 800-329-9205 to book your reservations.
Booking direct with us, our customers enjoy wholesale pricing on lodging, accommodations, and vacation rentals. Our value added services provide you with options for vacation planning with Jackson Hole Rental Homes, Jackson Hole Rental Condos, Hotels, Slopeside Hotels, Teton Village Hotels, Homes and Condos - as well as Luxury Rentals. We also have the largest selection of rental property, vacation rentals and resort hotels for lodging vacations and vacation rentals anywhere. We also have acces to the most diverse Luxury Hotels, Luxury Lodging and Luxury Resorts around the area; we have what you need to get you booked.
Call us at 1-800-329-9205 today to speak with our professional staff or email our reservations department directly at reservations@jacksonhole.net
---
Request A Quote
Mailing List
Signup for our mailing list to stay up to date on Jackson Hole news and seasonal specials.