Jackson Hole Summer Hiking
Summer Activities & Teton Activites
The Hiking Experience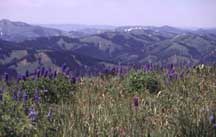 Discover unique areas surrounding Jackson Hole Wyoming. Hike through beautiful mountain meadows with endless scenic vistas. Discussions include the blooming wildflowers, local history, geology, and the animals and birds that inhabit the valley. Variety of hikes offered Have you ever hiked through scenic mountain meadows ablaze with brilliant wildflowers? Join us for a wildflower walk and learn about many different varieties of plants, their medicinal properties, and their importance to the wildlife in Jackson Hole.
Where to Hike
Hike within the Bridger-Teton National Forest and explore the 3.4 million acres of hiking terrain. A part of the valley that is off the beaten path you will journey where the locals go. All trips led by a local naturalist. Groups are kept small to cater to your physical abilities and hiking expectations. Private Tours for groups of four or more. A perfect family experience!
What to Bring
Hikers need good shoes and a warm sweater or jacket. We take care of all the other details so that you can relax and enjoy the day. We will pick you up at your hotel or a convenient meeting place. We provide water bottles, rain ponchos, backpacks, and a healthy lunch.
Types Of Hikes
The Trekker – Our most popular hike! You will hike along streams, through mountain meadows with endless scenic vistas learning about our unique valley. The day includes a healthy lunch. Hike begins at 8:30am and we return mid-afternoon.
The Explorer – This is our sampler hike. It is offered twice daily from 8:00 am until 12:00 pm and from 1:00 pm until 5:00 pm. This is a relaxing stroll within themajestic mountains with an experienced naturalist. Snacks provided. Perfect for families.
The Mountaineer – An all day hike into the mountains surrounding Jackson Hole. You will trek to the high peaks and along scenic ridges. These hikes are strenuous and are geared toward the active individual. Lunch and snacks are provided.
The Finale – A combination interpretive hike and beautiful sunset tour. After a short hike we will relax and enjoy the sunset with wine and appetizers – a perfect way to end your hiking experience. Hikes begin at 5:30pm
Snowshoeing
Journey into a breathtaking winter wonderland with a local naturalist. After a scenic and informative drive through Jackson Hole we will trek across the snow interpreting the landscape. While looking for animals, their tracks and signs, we will discuss local history, geology, and the natural history of the area. A great day for non-skiers or people who want to see the quiet side of Jackson Hole. Snowshoeing enables us to walk upon the snow to areas inhabited by wildlife. Learn about the adaptations of the wildlife that winters in Jackson Hole.
What to Bring
Snowshoers need to dress in layers with a waterproof outer layer. Good waterproof boots are a necessity and can be rented. Ski poles are helpful , but not mandatory. We provide transportation, snowshoe rental, snacks and warm beverages.