Ice Skating in Jackson Hole
Winter Activities & Teton Activites
Jackson Hole Ice Skating
Ice skating is a great relaxing activity that can be shared with family, friends and loved ones. Spend a few hours under the sun while gliding around the ice surface giving you a great opportunity to appreciate the beautiful Jackson Hole Scenery.
There are Several outdoor ice skating rinks are open free of charge temperature permitting every day of the week.
The Grand Targhee Ice Rink at the base of Grand Targhee Ski Resort also has skate rentals are available
The elementary school rink in Jackson is a smaller surface that is perfect for children.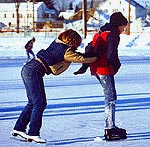 There are 2 outdoor hockey rinks, one at the base of Snow King Ski Area and one in the town of Wilson. These are available for recreation whenever hockey or broomball games or practice sessions are not scheduled. Night skating available till 10pm.
There are some specified times when Public Skating, Stick & Puck and Freestyle Figure Skating are going on, call for details
Book at one time with us for Lodging and get discounted winter activities and transportation!! Call us Today at Jackson Hole Reservations.