Jackson Hole White Water & Scenic Rafting
Whitewater rafting and scenic river trips in Jackson Hole, Wyoming might just be the highlight of your vacation. This summer activity is a great way to view the Jackson Hole valley, appreciate the Snake River canyon, and view native Wyoming wildlife along the river's edge. Summer river adventures offer something for the whole family whether you are a first timer or an experienced river enthusiast.
Dave Hansen Whitewater & Scenic River Trips
"Since 1967 Dave Hansen River Trips has been providing exciting whitewater and scenic river trips for kids from 6-96 (true story!). Whether you're confident in a raft or a little nervous, we have trips for all ages and experience levels.
Offering…
Jackson Hole whitewater trips in an 8-man raft or standard raft
A combo scenic and whitewater trip
A Jackson Hole scenic trip with Grand Teton or Snake River Canyon views
Adventure Packages- combine your river trip with Jackson Hole summer activities like horseback riding, hiking, or fly fishing
Contact Dave Hansen at www.davehansenwhitewater.com
Jackson Hole Whitewater | Teton Expeditions Scenic Float Trips
"Jackson Hole Whitewater has been in business since 1969 and remains one of Jackson Hole's favorite rafting companies!! JHWW is a small family run business and caters to making your trip a most memorable experience. Talk about adding a little adventure to your Jackson Hole vacation, JHWW has an awesome variety of trips for you to customize your trip.
Offering…
8-Mile Whitewater Trips
Snake River Scenic Floats
Teton Expeditions Scenic Float/Jackson Hole Whitewater Combo
Rafting Breakfast
Contact Jackson Hole Whitewater & Teton Expeditions Scenic Float Trips at www.jhww.com
Mad River Boat Trips

"Mad River Boat Trips is a river outfitter in Jackson Hole, Wyoming offering whitewater river trips and scenic floats daily during the summer since 1977. Early in the nineteenth century, a group of trapper explorers were the first to investigate the stretch of the Snake River below Jackson Hole. Deciding at the time that it was far too treacherous to boat, they called it "The Mad River". The boats may have changed over the years, but here at Mad River, the passion for adventure remains the same. The Snake River in Jackson Hole has been classified as a class I-III river, meaning that you can enjoy anything from a flat water scenic float in the north, to exciting whitewater rapids in the Snake River Canyon to the south."
Offering…
8-mile Whitewater rafting
Scenic floats
Specials and activity packages
Group rafting
Guide school & education
Contact Mad River Boat Trips at www.mad-river.com
Barker-Ewing Whitewater
"Barker-Ewing River Trips offers the #1 summer activity in Jackson Hole! A family-owned and operated Snake River outfitter with professional guides, 5-star river trips and an outstanding safety record since 1963, you can rest assured you'll have the trip of a lifetime! In 1963, with the Barker family, Frank and Patty introduced Barker-Ewing to the valley. Their love for Jackson Hole and all it encompasses continues to provide the foundation for the family business."
Offering…
8-mile Whitewater rafting
Scenic Float & Whitewater Rafting Breakfast Combo
Scenic Float & Whitewater Rafting Overnight Combo
Scenic Float Trip Teton Views First Light Float
Scenic Float Trip Teton Views Lunch Float
Scenic Float Trip Teton Views Dinner Float
River Trip & Activity; fly fishing, mountain biking, horseback riding, wildlife tours, or hiking
Contact Barker-Ewing at www.barker-ewing.com
Sands Whitewater & Scenic River Trips
"With over 50 years of Snake River experience in Jackson Hole, we know that it all begins with our hard-working raft guides. They have floated, surfed and paddled the Snake River hundreds of times, which gives them a deep knowledge of every turn, rapid, and current. Of course, our boatmen aren't the only ones with Snake River whitewater experience. Our entire staff is prepared to make sure your Snake River trip is safe and exhilarating. Whether this is your first time or your hundredth time on the river, we'll give you a ride that you won't forget!"
Offering…
8-mile whitewater adventure
Scenic float
Scenic float with breakfast
Scenic float with lunch
Whitewater & scenic combo river trip
Whitewater & scenic combo river trip with breakfast
Whitewater & scenic combo river trip with lunch
Ultimate overnight river adventure
Group rafting for Weddings, Reunions, & Team Building
Contacts Sands Whitewater & Scenic River Trips at www.sandswhitewater.com
Teton Whitewater
" Teton Whitewater has a long history of running the Snake River, with over 50 years of experience. For the past 10 years we've been owned and operated by the Great Salt Lake Council, Boy Scouts of America. But our history began many years before that. Since 1959 Boy Scouts have floated the Snake in good ol' fashioned aluminum canoes. Running the river was a different sport then, when life jackets were optional but baby oil for the perfect summer tan was not.
Eventually, in the 1970's the boys wanted a taste of the good stuff (whitewater that is) and so the camp expanded to include other activities, including whitewater rafting in Jackson Hole. For many years the camp was associated with Lone Eagle Whitewater Rafting, and in 2000 the Great Salt Lake Council BSA officially purchased Lone Eagle which later became Teton Whitewater. Because of our history, we love spending time on the river, whether it's on a beautiful scenic (reminiscent of our canoeing days) or on an adventurous whitewater trip."
Offering…
Classic Whitewater Rafting (14 Berson Boat)
Small Boat Slam Whitewater Rafting (8 Person Boat)
13 Mile Scenic Float Trips with Views of the Teton Range (Ages 4 and Up)
Classic Scenic and Whitewater Combo (16 person Boat)
Small Boat Slam Whitewater and Scenic Combo (8 person Boat)
Contact Teton Whitewater at www.tetonwhitewater.com
Lewis & Clark River Expeditions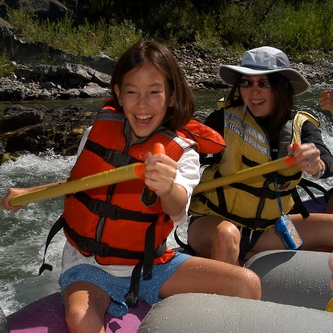 "Lewis & Clark has been running raft trips on the Snake River since 1971. Since we're a small company, we feel we can stress more personalized service. Our guides are seasoned outdoor professionals who typically have experience running rivers across America. They have the skills to provide you with professional, entertaining and educational outings on the Snake River. Owners James Peck and Karen Youngblood bought the company in 1994 and take great pride in creating a family atmosphere at their operation. Their two daughters, ages now 14 and 18, have helped greatly in forming a service philosophy that stresses rafting fun for people of all ages. Karen's father ran our whitewater trip at age 82."
Offering…
Contact Lewis & Clark River Expeditions at www.lewisandclarkriverrafting.com
Call today and let our courteous and knowledgeable team take care of all your Lodging in Jackson Hole Wyoming travel details for you.