Jackson Hole is known for many things: amazing views, abundant wildlife, a plethora of activities year-round, world-class skiing, an antler archway town square, and a world-championship hill climb to name a few. But we also happen to have a few great restaurants that stand out above the rest. Restaurants that stand the test of time and have a local following are ones that will make this list. Here are 10 great restaurants in Jackson Hole in no particular order that are sure to leave you wanting more.
#1. Jenny Lake Lodge– The ambiance and food at this quaint lodge on the Inner Park Rd in Grand Teton National Park is amazing. You do need to make reservations for this restaurant several months in advance and the five-course meal is expensive but well worth the experience. The menu varies from evening to evening so be sure to check the website for more information.
#2. Trio– This great bistro just off the Square has a great variety of food and drink, a fun atmosphere, and has mouth-watering food! Blue-cheese fondue waffle fries, flatbread pizza, and the risotto are a few of our favorites!  A reservation is recommended as this is a hot spot!
#3. Snake River Grill– This fine dining restaurant located on the town square is a Western-elegant dining experience. The menu includes game, poultry, and fish creations and an excellent appetizer, wine, and dessert selection. Reservations are a must.
#4. Granary-This American dining experience has excellent views of the Teton range, great service, and a wonderful selection of game meat, fish, poultry, and steaks. It's nice to go up there a little early and catch some jazz music on a Saturday night in the bar before dinner. A reservation is needed most nights of the summer, especially if you want an unobstructed view of the Tetons.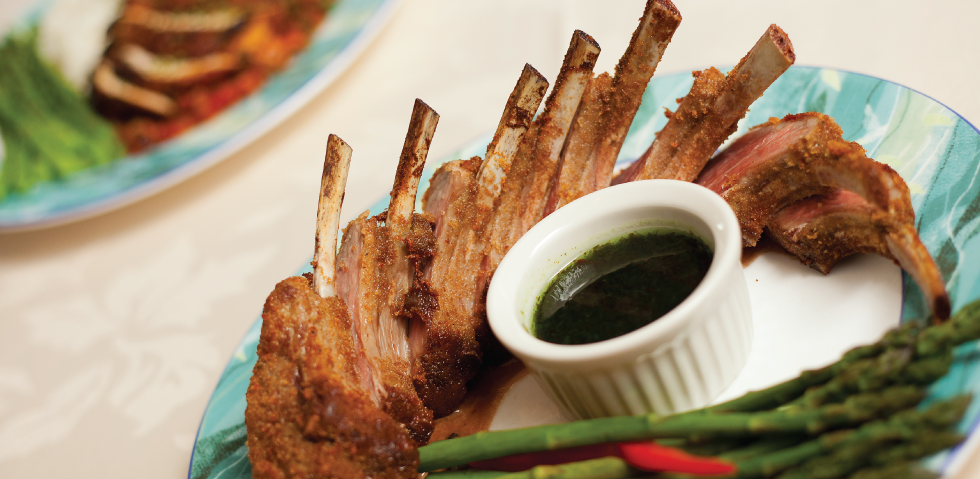 #5. The Blue Lion– A French-inspired cuisine makes this staple Jackson Hole earn a place on the list. Started in 1976, the Blue Lion offers nightly specials and a great wine list. Try the crab cakes or stuffed mushrooms for a starter, or the mud pie or tiramisu for dessert. Anything in between is absolutely mouth watering (the Chicken Marsala or the Huckleberry Buffalo Tenderloin are some of the best). Reservations are required.
#6 Wild Sage– For a luxury dining experience, the Wild Sage is the way to go! Their lamb shank literally falls off the bone and their mushroom risotto is made with local wild morels, yum!! Located in the Rusty Parrot Lodge close to downtown shops and Flat Creek, this elegant and small restaurant is sure to leave you wanting more. Reservations are a must!
#7 The Kitchen– This Asian-infused, modern cuisine restaurant provides a refined, yet casual experience to its guests. Located just off the square, the atmosphere is clean, simplistic and visually stunning. We would suggest trying the Cucumber-Watermelon-Mint Salad,  Lemongrass Coconut Halibut, and the Seared Scallops. Reservations are not required but are highly recommended due to the popularity of this restaurant.
#8 Bin 22. Who doesn't love tapas? Bin 22 is a cozy restaurant with a large selection of wine that you can pick out yourself. The atmosphere is always buzzing and the great selection of cheeses and elegant meats are divine! Try the meatballs, they are delicious! Reservations are suggested but not required.
#9 Gather– All we have to say is…Brussel Sprouts. Just when you thought you would never eat them, Gather creates this dish and WOW! Try the Carter Country Burger or the Hazelnut Crusted Salmon to go with. Reservations are recommended.
#10. This spot is tough. We could recommend the Rendezvous Bistro for its lively atmosphere, fresh oysters, and comfort food, or the Alpenhof, for its yummy Fondue. Cafe Genevieve offers a great Buffalo NY Strip and a yummy Ratatouille, and both Teton Pines and The North Grille offer delicious food in a great atmosphere.
In short, you really can't go wrong with any of these 10 great restaurants in Jackson Hole. In fact, we would venture to say that all of the restaurants in Jackson Hole are great, as only the strong survive here.