The turn of the season in Jackson brings the promise of Christmas shopping on the town square, time spent with family and loved ones, and a warm cup of hot chocolate to warm up to after a day spent skiing on Snow King Mountain or at Jackson Hole Mountain Resort.
A few of the holiday events our team is most looking forward to this year:
Town Square Tree Lighting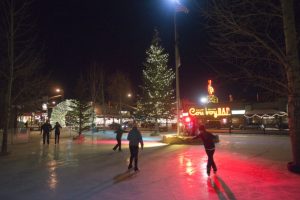 This year on Friday, November 23 the Town Square Lighting is scheduled from 5:00 pm to 7:00 pm. Santa Claus is scheduled to make an appearance as well, arriving on dogsled from the Jackson Hole Iditarod. The event is sure to be a delight with live holiday music, Christmas caroling, and refreshments. The official lighting of the antler arches will begin at 5:30 pm. Santa Claus loves Jackson Hole so much that he'll be hanging around the Town Square every night starting December 15, from 5:00 pm to 7:00 pm until Christmas Eve when he needs to visit homes across the globe.
Elk Refuge Sleigh Rides
Every fall the National Elk Refuge fills with thousands of elk coming down from higher elevations. Have you experienced the elk refuge first hand? Get up close and personal with thousands of elk and learn more about these magnificent large mammals and the role they play in the greater Yellowstone ecosystem.
Schedule a sleigh ride at this link today!
Holidays at the Jackson Hole Playhouse
Looking to spend a little more time enjoying good company indoors this winter season? The Jackson Hole Playhouse is presenting its annual Christmas show from December 13 to January 5, 2019 (Shows not scheduled on December 24 & 25). Call 307-733-6994 and make it a priority to experience this Jackson Hole tradition firsthand with your loved ones. Book online at https://jacksonplayhouse.com
The Wort Hotel's 22nd Annual 12 Days of Christmas
Make sure to stop by and enjoy some festive fun at The Wort Hotel to ring in the holiday season. The full schedule of both adult and family events can be viewed at their site here. Activities include everything from gingerbread house decorating, Christmas stories, ugly sweater parties, New Year's celebration, and more.
New Year's Eve
Celebrate the New Year with Jackson Hole Mountain Resort. Get updates on all activities scheduled, from the torchlight parades, fireworks, live music and dining options at this link.
Come to enjoy the holiday season in Jackson and make memories to last a lifetime! Wishing you and your family the happiest holiday season.
The Team at Jackson Hole Reservations