Channel your inner Ansel Adams, pack up the car with gear, supplies, and family and head to Schwabacher's Landing in Grand Teton National Park to get that epic photo of the Tetons. Schwabacher's Landing is a boat landing for those looking to float on the Snake River, but a short hike from the parking lot reveals a backdrop of the Tetons that Ansel Adams made famous in his iconic photo of the Snake River. You may not find the exact spot he took the photo, but just about anywhere around Schwabacher's Landing makes for a prime photo op of your vacation and is worth printing out, framing, and proudly displaying on your mantle.  
Getting There
Schwabacher's Landing in located conveniently just off Highway 89, which makes it a great stop when leaving Jackson and heading north on your way to Yellowstone. Schwabacher's Landing is just 5 miles north of Grand Teton National Park's main entrance in Moose, Wyoming. It's an easy spot from the highway to find just turn at the Schwabacher Landing Road sign, although once you turn off the highway you'll be on a well maintained dirt and gravel road, so you may need to wash the family cruiser sooner than later. Four-wheel drive isn't needed.
Ansel Adams With An iPhone
The best kept secret of Schwabacher's Landing may be that you don't have to pay an entrance fee to access it. So it makes for a great spot for those who don't have the time or cash to enter the park at one of the paid entrances. So, no need to worry if your park pass just expired, just follow the road to the parking lot and grab all your photo equipment or simply your iPhone and make your way down the trail. As you head down this well defined path with that futuristic phone of yours that takes amazing photos, surfs the net, and plays Pokemon Go, think about old Ansel Adams. To get the same photo, he was forced to make his way through rough terrain sans a trail lugging a rucksack of about 30 pounds of photography gear as well as a pack mule trailing behind with another 100 pounds of gear and food. Maybe when you are explaining to your friends and family how you got that perfect shot of the Tetons, feel free to embellish your hardship with some of Ansel Adams travails, though maybe leave out the mule part, that might be a bit over the top.
The 4-mile trail around Schwabacher's Landing is well maintained and flat, but rutted heavily with tree roots in sections so keep that in mind if you have anyone in your party that is in a wheelchair or stroller. For little ones a Baby Bjorn or carrier is a better bet for making it down the trail. Not to worry, a simple stroll of about a ¼-mile from the parking lot will find you at a perfect opening directly in front of the Tetons and there will even be a wooden bench expecting your arrival.
Where The Wilds Things Are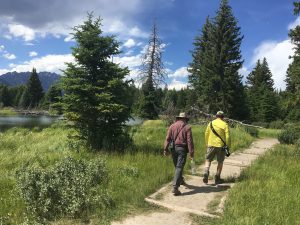 The pro and wanna-be-pro photographers all flock to Schwabacher's Landing for early morning sunrises or early evening sunsets. It's common knowledge that those are the best times to spot wildlife in the park, but even those who can't wake up early or time that perfect sunset with animals will be rewarded with gallery worthy images of the Tetons mirror reflected in the water in the foreground. If you are lucky you'll spot such wildlife from beavers to bald eagles, but unless it's an extremely cloudy or wildfire smoky hazy day, you are guaranteed to bag a photo of those priceless Tetons.
Best Picnic Spot Ever
If you don't fancy yourself the next Ansel Adams simply make an afternoon of it and grab picnic supplies in town and spend the day with the family looking for wildlife and enjoying a mellow hike with stunning views. This hike is a favorite among wildlife photographers who flock here in hopes to capture wildlife and the amazing reflection of the Tetons in the meandering path of the Snake River.
With views this stunning you literally can't mess this shot up, just hold your breath for a split second to literally inhale the beauty of your surroundings, steady your shot, pause and click. Pretty much guaranteed to be in your top 10 best photos taken ever.