If you are planning a trip to Jackson Hole, you have a decision to make regarding your lodging: vacation rental or hotel? Making a decision about this is tough so let us help!
To start, let's discuss the benefits of each:
Vacation rental
Kitchens are usually included, saving on cost
Various sizes depending on your group size
Located out in the country or right in the thick of things
More cost effective for larger groups
Quieter
It can be your home away from home
Great for short or long stays
Hotel
Amenities
Food prepared for you, breakfast often included
Transportation to and from airport
Located in the heart of Teton Village and Jackson
Varying prices
Based on the above-mentioned benefits, it's safe to say that both have their strengths. So how do you choose whether or not you want a vacation rental or hotel in Jackson Hole? Here are a few things to consider when deciding:
What are the dates of your travel to Jackson Hole? If you are traveling here in the height of the busy season, you may consider a vacation rental. The option to retreat to a quieter spot and make your own meals may be a perfect way to escape the crowds. However, if you are here in the off-season or slower seasons, you may want to consider a hotel with a built-in restaurant rather than having to rely on other restaurants being open.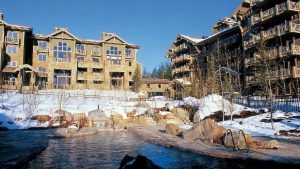 How big is your group and who is in it? While hotels can manage several guests, a vacation rental may be perfect for a large family retreat.
Will you have transportation? If the answer is no, you may want to consider staying at one of our hotels with airport service. The airport is about 15 minutes from town. If you have transportation, you will want to consider any costs associated with parking your car at the hotels. Taxi services are available.
Will you have any pets with you? Both vacation rentals and hotels in Jackson Hole allow pets depending on the place. However, the costs can be higher depending on the size of the animal. Plus, you will want to consider how to take care of your animal while you are in the parks.
To be perfectly honest, both vacation rentals and hotels in Jackson Hole are fabulous. You really cannot go wrong.  We are sure you will find your stay in Jackson Hole absolutely delightful!