Hiking may just be the perfect summer activity in the Tetons. Nothing quite recharges you and makes you appreciate nature and be in the moment like a walk through the woods. So, turn off your phones you probably won't have cell service anyway, pack a lunch, some gear, and head out with some friends or family for the afternoon. The whole area (Jackson, Grand Teton National Park, and Teton Valley, Idaho) are chock full of great hikes, so to make it a little easier we've selected 10 amazing hikes for you to start with. Don't worry there are plenty more to check out when you are finished with these. Happy hiking.
Teton Valley, Idaho
Often referred to as the quiet side of the Tetons, Teton Valley, Idaho is a great place to find your own private Idaho and get out and go for a hike. The sun sets later over the hill in Idaho so you'll have a bit more daylight to conquer that long hike or to simply spend more time at the lake you hike to.
Packsaddle Lake
Packsaddle Lake is the shortest hike on this list, but as its name implies the big payoff is the lake at the end of the trail. The trail is about a half mile each way and is fairly steep in parts as it descends to the lake. Make sure you bring bathing suits and consider bringing tubes to float in style around the lake. The short distance allows you to bring a bit more gear to play at the lake without breaking your back by lugging it 10 miles. Make a day of it by bringing a picnic and spending some quality time by the lake. Just remember that although it's a short hike, that it's pretty much all up hill on the way out. FYI the road to the trailhead is a bit adventurous, but totally doable in a front wheel drive car. Solitude at the lake on a hot day is priceless and the energy expelled to get there is pretty minimal.
Darby Canyon
Darby Canyon offers a ton of trails and primitive camp sites to explore in Idaho. One of the most popular trails to hike is the Wind Cave trail. A roundtrip to the Wind Cave is a little over 5 – 6 miles and is rated as moderately strenuous with an elevation gain of 1,800 feet. After many switchbacks through pristine forests you'll eventually climb a steep section of trail that brings you to the opening of the Wind Cave. The mouth of the Wind Cave juts out at 125 feet tall by 25 feet wide and comes complete with a waterfall. The water rushing out of the cave varies by the time of year. The Wind Cave is often explored by spelunkers, but is best left to those with proper training and experience as it gets tight and technical quick inside the cave.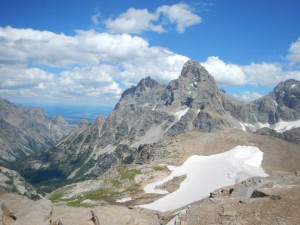 Table Mountain
At 12 miles round trip Table Mountain offers a longer hiking experience and breathtaking views of the back side of the Grand Teton. It's not just the distance, but with an elevation gain of almost 4,000 feet, the Table Mountain trail makes for one enjoyable, albeit exhausting day. Make sure you leave early as it could take up to 12 hours to complete from start to finish. Anyone who takes on this hiking challenge will be rewarded with jaw dropping western views of the Tetons as the Grand Teton sits directly in front of you and just a mile away. It'll look so close you'll think you'll be able to reach out and touch it. Highly recommended for the advanced hiker.
Jackson
Snow King
Snow King Mountain is the locals gym in the summer and winter. In the winter you'll find people booting up and skiing down and in the summer you'll see plenty of people and dogs hiking up for the best view of the town of Jackson and surrounding valley. The good news is that it's just under 2 miles to the top. The bad news it's almost all straight up with an elevation gain of 1,500 feet. If the hike to the top has worn you out or you want to save your knees simply ride the lift down for only $5. Best view of Jackson hands down.
Sleeping Indian
This one is a bit of a work out, since the roundtrip mileage clocks in at around 12 miles and has an elevation gain of over 4,000 feet, but the views, oh the views. Technically you are hiking up Sheep Mountain, but everyone refers to it as Sleeping Indian, since when viewed from a distance it looks like just that, an Indian lying down complete with a headdress. If you make it to the top there may not be a better view of the magnificent Tetons in all of Jackson. Simply stunning.
Jackson Hole Mountain Resort
If elevation gain is not your thing, then simply walk on the tram and be whisked away to the top of the mountain. In 15 minutes you can gain 4,139 feet of elevation without breaking a sweat. A tram pass will set you back $37 or go online and reserve a pass for $5 cheaper. Whatever it costs, not having to hike that steep terrain to the top is priceless. Once at the top it's not all views and waffles, though those can be found as well. The top of the tram offers plenty of hiking options.
Rock Springs Loop – 4.3 miles roundtrip
Rock Springs Overlook – 2 miles
Green River Overlook – 3.5 miles
For more info on hiking at the top of Rendezvous Peak go to jacksonhole.com
Grand Teton National Park
Grand Teton National Park is a hiker's paradise. Only things to consider are how far off the grid do you want to go and how much time do you have? Don't worry you don't have to be an extreme hiker or mountain climber to enjoy a walk in these nationally preserved woods, but you do have to get out of your car and go. $30 gets you in the park for 7 days or snag an Interagency Annual Pass for $80 which gets you access to most National Parks and federal recreation areas. Seems a lot cheaper and more fun than a gym membership, and you'll probably even use it.
Leigh Lake
We'll start you off with a stroll through the park kind of hike, so as not scare you off of what GTNP has to offer. A roundtrip is about 5.5 miles, which is totally doable when you realize the elevation gain is only 50 feet. It's just a walk around the lake, Leigh Lake which happens to take the bronze for third largest lake in GTNP. Oh and you'll get to stare at such stunning peaks as Teewinot, Rockchuck, and Mount Moran while you do it.
Phelps Lake Loop
The trailhead is located in the Laurence S. Rockefeller Preserve which is typically the quieter side of GTNP. Through forest and wild flowers the trail will eventually drop you off at picturesque Phelps Lake and is about a 7 mile loop with only a 475 foot elevation gain. The perfect Wyoming hike is to a body of water and this lake doesn't disappoint. Feel free to go for a swim to cool off, or jump off a big rock into the lake if you are up for it. You'll also get good views of Death Canyon which could be a another hike for another day.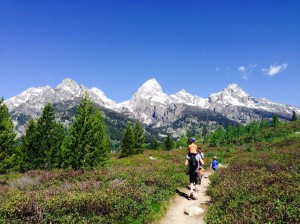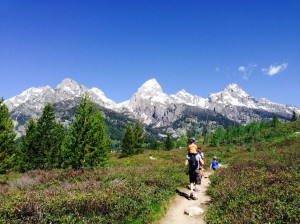 Bradley Lake
Sticking with the lake theme in GTNP, Bradley Lake offers a beautiful and private day for you and your companions at a stunning mountain lake. At just under 5 miles total trip this relatively easy hike is family friendly and gets you off the beaten path. Taggert Lake is perhaps the more famous lake of the two and worth a look as well and is near by, so you can hike to both. There is only one campsite at Bradley Lake and it's reserved for backpackers taking the Grand Teton Loop, so you will only see fellow day hikers. Bradley Lake provides a beautiful setting with it's pristine mountain waters. Well worth the steps.
Cascade Canyon
One of the most popular hikes in GTNP is to take the Jenny Lake shuttle across and hike to Inspiration Point, which is a classic route, it's just unfortunately typically crowded. If you haven't been you totally should brave the crowds and go, but if you push on just a bit more the crowds really thin out and you have the Park more to yourself at Cascade Canyon. It's about 10 miles roundtrip with about 1,000 feet in elevation gain. The steep canyon offers incredible views, just make sure you don't gaze too long at your surroundings and miss the ferry back, otherwise you'll be in store for another 2 miles of hiking.