People may tend to think of the frozen variety of water when they think of Jackson Hole, i.e. cold smoke and cowboy powder, but come summer time the melted snow makes for perfect lakes and rivers. Nothing is quite as refreshing or inspiring as getting in some water when trying to beat the heat. Swimming pools are great, but feel more like a mechanical treadmill when you can swim, float, boat, or fish outside as mother nature intended. No chlorine needed, just pack your favorite swimming suit and take to the water like a cut-throat trout.
Tubing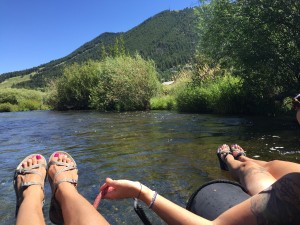 Tubing is in a word, chill. We'd also accept perfect. All you need is an old school tire tube from any of the local tire shops or you can go new school with a state of the art inflatable tube complete with cup holders, headrest, and handles. Either one shouldn't set you back more than about $25 and easily deflates, so there's no dock fees to keep it at the lake. This is all you really need to float, but sure you can throw in a floating cooler, beer, (or favorite beverage), waterproof bluetooth speakers, and you get the point. Pretty soon the river is your oyster so to speak. Call some friends, grab some bungees and carabiners and join up all your tubes like Voltron and form the funnest floating tube flotilla you can imagine. Then just float a river or body water of your choice. When you float at such a chill, leisurely pace down the river, you have no choice, but to be in the moment, take in your beautiful surroundings and just enjoy yourself.
SUP
Stand Up Paddle Boarding is the biggest thing to happen to water sports, since well water. As you may have figured out Jackson has a lot to offer, but typically large swells off a north shore is not one of them. No fear you can still bust out a SUP and get around the local rivers and lakes. You don't even have to get wet if you don't want to. These boards are long, buoyant, and stable. There's even room on these things to pack a lunch, drinks, or your dog. There are a great workout as you stand tall and paddle around. Now you just need to buy one of those big floppy hats to complete the look. Rent your own SUP today over at TetonVillageSports.com or JacksonHoleKayak.com.
Rafting
Floating the Snake River with a local guide company is must on your Jackson bucket list. There's a ton of trips to choose from that will be right for you and your family. Everything from rafting rapids to scenic floats that even provide lunch. Getting in a raft is also a great way to see some local wildlife, as the local rivers attract thirsty and hungry animals looking for a quick drink or bite. You can't really go wrong with any of the local outfitters, as they are all experienced and offer unforgettable memories on the river. A quick google search will give you plenty of options, but to get you started check out Dave Hansen Whitewater, BlackDogRaftCompany.com, or BarkerEwing.com.
Wakeboarding / Wakesurfing
Just because winter is over doesn't mean you can't board, surf, or ski the melted snow, you just need a boat and some gear. For this one it helps to have your own or some really cool friends that have a boat and want to take you out for the day. It makes for a fun day out at the Palisades or in Grand Teton National Park. It's pretty much the closest you'll get to skiing or snowboarding in August and won't have to worry about frost bite or lift lines. Plus you get to say all day, "I'm on a boat!" Go carve up the lake and have some fun.
Fishing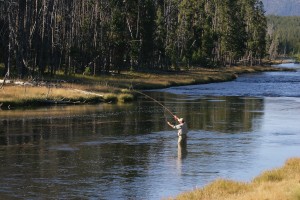 If you didn't notice Jackson is pretty much a fishing paradise. Endless mountain rivers and wide open spaces. In fact there's enough rivers around here for everyone to get there own to stand in and fish. So grab your waders, your flies and go stand in the river. It's addicting, we warned you. We would tell you where to go, but that violates the first rule of fish club, so just ask around and we're sure some sympathetic soul will give you a nibble of where to go. There's really no bad place to start, and fishing the day away in Jackson is no hyperbole, life changing. For those of you who want a referral for a guide, we recommend Josh Gallivan, a born and raised Jackson local.
Hot Springs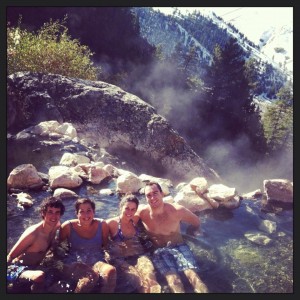 Okay, sometimes the point of slipping into some water around here is not to cool off, but to enjoy some of mother nature's hot tubs that just happen to be in an idyllic and romantic setting. Natural hot springs are a thing of wonder, beauty, and do wonders for all those worn out hiking legs. You can get your soak on at Granite Hot Springs, which is about 30 miles from Jackson. A soak will set you back about $6. Just go, your body and soul will thank you.
Kayak
So maybe you've done the tubing thing and want to have a little more paddling control or possibly you've been around the lake on a SUP and are ready sit down and make your way around, if so then you need to get in a kayak ASAP. Kayaks are a great choice for getting around flat water as well as some rapids. You can go with that special someone in a two person kayak, or even go solo in your own. Think about what kind of water you'll be on to pick type of kayak for your outing. Kayaks can provide the perfect way to get out on to the water and cruise with ease.
Canoe
Canoes are another great choice for getting around on a lake or mellow river. You can pile the whole family into a canoe and make a fun day of it. The gentle pace of a canoe provides some amazing wildlife viewing opportunities as you slow to the pace of the waterway you are on. You can stow a bunch of gear and food in your canoe and travel in style down your favorite river or lake. Plus the more people you have in it means you have more potential rowers, so everyone can help out and get a break as well.
Lake Cruise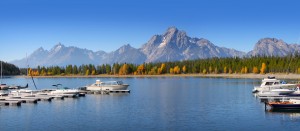 Sometimes it's best to leave the driving, we mean boating to someone else and just kick back and enjoy your time on the lake. You and your group will be free to check out the gorgeous scenery and can even be treated to breakfast, lunch, or dinner. On a lake cruise on Jackson Lake you'll learn about local history and get a chance to walk around Elk Island and do some exploring. For more info on rates and tours go to gtlc.com
Swimming
It's great to be on the river or lake in the summer time out here in Jackson, but sometimes it's even better to be in the river or lake. Nothing helps you cool off faster and beat the summer heat then just jumping in a cold and refreshing body of water and doing your best trout stroke. The water is pure and does wonders for your body, mind, and soul. A river or lake is better any day over a swimming pool, unless it's December. Otherwise a natural body of water can't be beat for some summer time swimming.