Are you looking into snowmobiling tours in Jackson Hole for your upcoming visit? We have a few tips to help you with your decision. We can also point you in the direction of the most popular spots for snowmobiling tours in Jackson Hole. A snowmobile tour through this area is a once in a lifetime opportunity.
A couple of things to consider:
Do you have your own gear or would you need to borrow some? (ie a thermal snowsuit, goggles, a beacon, and gloves)

Do you want to go off-trail or on a trail?

How long of a trip would you like to go on?
Most of the shops in town, up at Togwotee Pass, in West Yellowstone, and at Flagg Ranch will rent you a full bodysuit set-up that will keep you warm throughout the day. We would recommend that you wear several layers so you can adjust your warmth throughout the day. Goggles, gloves, a warm hat and warm boots are essential. It is also especially important to have an avalanche beacon, probe, and shovel if you plan to go off trail without a guide.
In Jackson Hole, there are snowmobiling tours both in Yellowstone National Park and in Bridger National Forest. You can also travel outside of the valley to more open spaces near Bondurant, Alpine, and over in Teton Valley, Idaho. If you would like a faster, on-trail tour with the potential to see natural geological features and wildlife, we would recommend a tour to Yellowstone. If you are looking to go off-trail and to play around in the snow at a slower pace, we would recommend going on a tour in Bridger-Teton National Forest. There's also an option to rent your own snowmobiles and travel to Granite Hot Springs or tour around up at Togwotee Pass. If you choose option 3, make sure you have some understanding of avalanches and safe pitches to travel on before you go.  
Y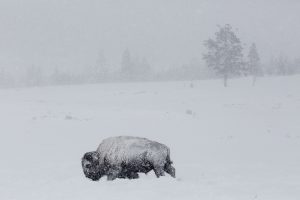 ellowstone snowmobile tours are full day excursions and will include a lunch break up at Old Faithful (a reliable geyser in the park that goes off roughly every 1 ½ -2 hours). There are also overnight trips up in Yellowstone which can truly be a magical experience. The ability to potentially see buffalo, wolves and other little creatures increase dramatically in Yellowstone, although there is potential to see wildlife up at Togwotee Pass as well. At Togwotee Pass, there are a handful of companies that run day tours and you can also rent snowmobiles for ½ days. There is also a wide variety of skill levels and the Togwotee Mountain Lodge will set you up with the right trail for your skill level. This lodge also has several packaged deals, allowing you to do a multi-night stay. If you are planning to rent your own gear, we would suggest you plan to spend several hours, including travel time, as both Granite Hot Springs and the Gros Ventres take about an hour to get to.
A couple other tips:
Request thumb heaters. This is a necessity for the happiness of your thumbs!

Bring plenty of water and snacks. You can always throw a backpack on the tail of the machine.

Layer up. Weather in Jackson Hole can change quickly so be prepared.

Check the weather and the avalanche report. Getting to play in fresh, new snow is the best!

Plan your snowmobile trip to Yellowstone far in advance. There are a limited number of permits to this pristine magical place in the winter!
Snowmobiling tours in Jackson Hole are a great way to take a break from the fresh powdery skiing we have (if you want one). It's also a great way to see more of the valley and get some great photos of the Tetons and our resident wildlife.