Escape from the reaches of civilization on your own terms! Travel as far as you want by the power of your own muscles! Cross-country skiing in Jackson Hole is THE way to truly experience all the wonderful parts of nature without the commotion and noise.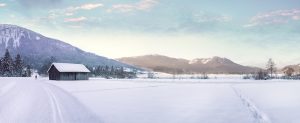 Want to hear the birds chirp and the snowfall? Cross-country skiing allows it. Want to experience something that few others do? Cross-country skiing encourages it! Want an adventure with a short learning curve and hours of potential enjoyment? That's cross country skiing in Jackson Hole for you. 
There are several Nordic Ski centers in Jackson Hole that can give you varying degrees of adventure. If you prefer to be closer to civilization, we would recommend one of the centers close to town, including the Teton Pines Resort and Ski Center or the Shooting Star Nordic Track in Teton Village. For more adventurous spots, we would recommend the inner park road in Grand Teton National Park, Trail Creek in Wilson or Grand Targhee Nordic Center as these trails are more remote.
We also have our very own JH Nordic Alliance that provides detailed information about the conditions of the trails, best spots for the various Nordic activities, as well as information about the skill level needed for the trail. Their website has everything you need to get started on your cross-country skiing adventure.
The beauty of cross-country skiing in Jackson Hole is that it's a pretty easy sport to pick up. Once you get the hang of gliding, kicking and going downhill, the sky's the limit for where you can go. You can easily receive some instruction from guides at the various Nordic tracks or you can trial and error your technique. Cross-country skiing is a pretty safe sport; you can manage your own speed and can easily sit down if you don't like where you are going.
While there is an abundance of activities in Jackson Hole to choose from, cross-country skiing provides an excellent way to tour the valley while appreciating the beauty of your surroundings. Furthermore, it provides a great cardiovascular exercise and uses a completely different set of muscles, making it a great activity when you need a break from downhill skiing.