Although fishing and fly fishing are not unique to Jackson Hole, the quality of fishing and unmatched scenery make for a one of a kind place to cast your rod. Regardless of skill level, the rivers within and surrounding Jackson Hole contain some of the most sought after fishing holes in the country and are home to the infamous state fish of Wyoming, the cutthroat trout. Whether you fancy yourself an expert angler or not, hiring a guide to take you out on the Snake River or the other great rivers in the area will make your trip worthwhile. Snake River Angler is one of the premier fly fishing guide services in Jackson Hole, boasting the most fishing permits of any outfitter in the area. Their expert guides will provide you with invaluable information about the proper techniques, baits to use and much more based upon the time of year, location and conditions.
Guided Trips with SRA
Snake River Angler offers five main locations for trips; the Snake River, Green & New Fork Rivers, Yellowstone National Park (rivers & lake), Salt River, and Flat Creek on the National Elk Refuge.
Snake River
The majestic Snake River runs through Grand Teton National Park and Bridger-Teton National forest for a large portion of it's Wyoming stretch. Snake River Angler offers more sections of the snake river than any other outfitter in the region, with permits for the park and national forest. Drift boat trips on the Snake River can either be full or half day and range from March 1st to the end of November pending conditions.
Green & New Fork Rivers
One of Wyoming's more under the radar, great fishing locations, the Green and New Fork Rivers are home to some of the largest brown and rainbow trout. Because of how low key and remote these rivers are, you will find serenity among the scenery of the Wind River Range with very few other boats around. The Green & New Fork River trips are only offered as full day and are also available from March to November pending conditions.
Yellowstone National Park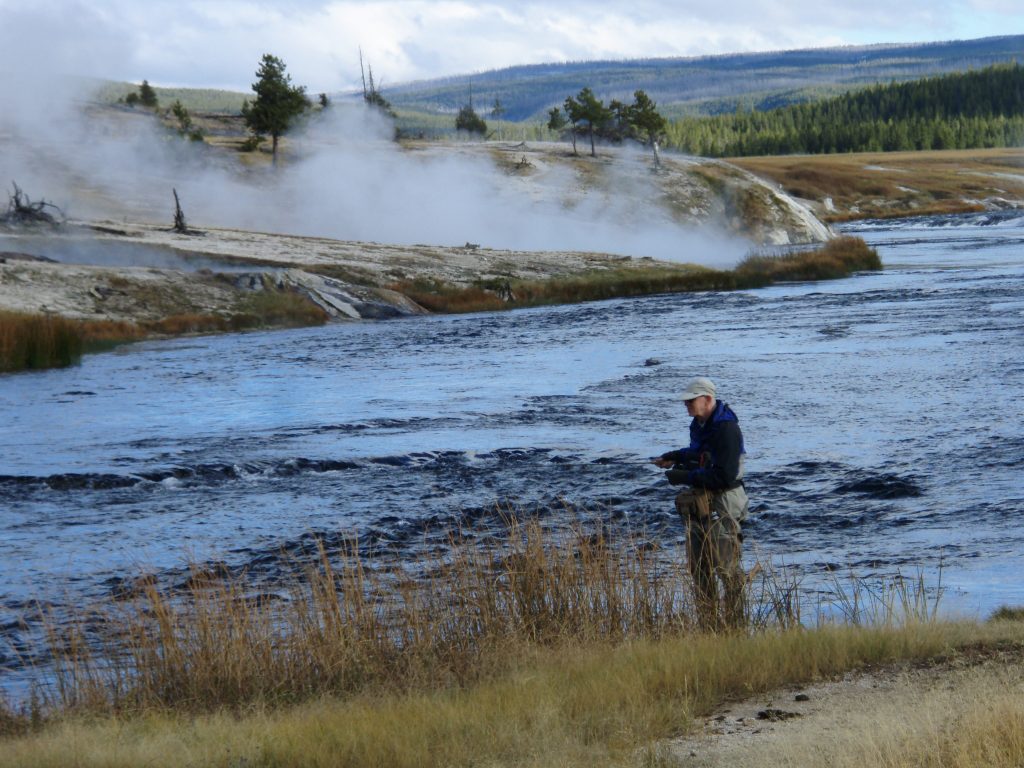 The famed first National Park is home to some of the most revered waters on the planet for fly fishing. SRA offers guided fishing on the Firehole, Gibbon, Madison, Lewis, Snake, and Yellowstone rivers as well as Crayfish Creek and Lewis Lake. These fishing holes are filled with a variety of trout, both native and introduced populations. These trips are wade-fishing only with the exception of Lewis Lake which is accessed via outboard motor-clad drift boats. Trips are available from Memorial day weekend through October.
Salt River
A great escape away from the other more popular waters in the area, the Salt River is beloved by anglers who prefer the dry fly. Much of the fish found here are native Snake River fine-spotted and Yellowstone cutthroat, as well as the lesser dominant brown and rainbow trout. The river flows mostly through private ranch land and is a great place for both expert and novice anglers alike. These trips are offered from March through November for full days.
Flat Creek
One of the most technical streams in the West, Flat Creek is located right on the National Elk Refuge and features almost only Snake River fine-spotted cutthroat trout. These trips are exclusively wade fishing, and pose a solid challenge to any willing expert angler. The trout can often be well over 20 inches and are sure to put up a fight. Trips range from August 1st to the end of October, and can be either full or half day.