Thinking of proposing in Jackson Hole? Finding that perfect romantic place and time to ask your love to marry you can be a challenging task, luckily if you are going to be in Jackson Hole there is an abundance of locations and occasions that are perfect for popping the question.  Here are some of the most ideal spots in the valley for professing your desire for everlasting love with your partner.
The "Wedding Tree" or Other Great Teton Overlooks
With its fitting name and near perfect view of the Teton range, the Wedding Tree as it is commonly known is an overlook with some unique trees not too far back on the Gros Ventre road and is within a few minutes walk from your car. The other great overlooks include Blacktail Butte, Inspiration Point, Shadow Mountain, Schwabacher's Landing, and although this one is not necessarily an overlook, the Moulton Barn offers some of the most iconic views of the grand.
Along the Snake River: Fishing or Floating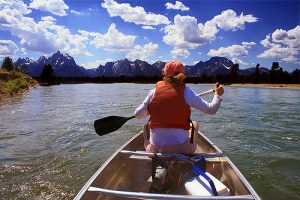 The calming waters of the Snake River, combined with the plentiful beauty of the surrounding valley can provide the perfect romantic setting for the big question, whether you are on the shores or floating in a drift boat, raft or other aquatic apparatus. Not many things are more special than having your special someone catch their first cutthroat, and getting a ring moments later. If fishing is not you or your partners' thing, the river and its surroundings will undoubtedly provide you with a magical backdrop.
Atop One of the many Peaks Surrounding the Valley
Whether you just want to work for your breathtaking view on a long hike to a beautiful mountaintop away from civilization, or take a simple tram ride to the top of Rendezvous Mountain and be spoiled by the views at 10k+ feet. Either way, you won't be disappointed. Some of the hiking options include the South, Middle, and Grand Teton, or their surrounding peaks depending on how intense you'd like your excursion. Jackson Peak and Sleeping Indian are some great ones as well.
Hot Air Balloon Among the Tetons
This activity is not one that you get the opportunity to do everyday, not to mention doing it in such a scenic area floating to the height of the tops of mountains. The romance will be present without doubt as you float gently high up in the air. Check out our blog on this topic to learn more here.