Have you ever dreamed of waking up early to the mountain sunrise, grabbing a hot cup of coffee and heading to the stables? Dreams come true in Jackson Hole, Wyoming with non-stop adventures riding through incredible scenery, amazing trails and absolutely breathtaking back roads that can take you across rivers and through valley's. Check out these great places to get riding in Jackson Hole!
In Jackson, there really isn't a bad place to go riding and when you're with the folks at Mill Iron Ranch, you're sure to see some of the best views unmatched in elevation and scenery. Saddle up and head to Bridger Teton National Forest were you will climb up 2,000 vertical feet. Ride into the Gros Ventre Wilderness and get views of Hoback, The Snake River Canyon, and the very beautiful Teton Range. With alternate tours available from Fishing to Hunting, Mill Iron Ranch has it all plus, their horses are born and raised on their ranch.
Have a wild side? Love the thrill of a Rodeo? Now you can take part in Jackson Hole's most popular new horseback experience. Get down and dirty with their intro to the timed-events portions of a rodeo. Learn and experience things like, team roping, barrel racing and more. If you have the love of adventure, Introduction To Rodeo is a fun and exciting program that is sure to please and, it's the only one of its kind in Wyoming!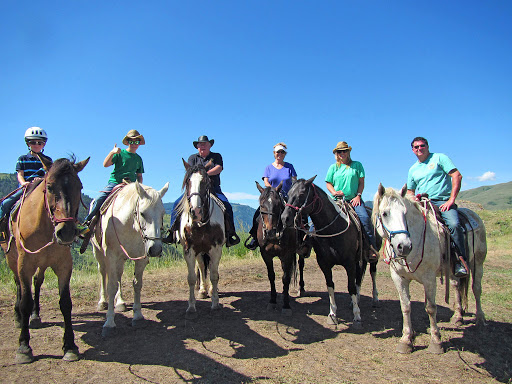 Just 15 minutes south of Jackson, Wyoming you'll find The A-OK Corral, a place filled with incredible views that will keep your eyes gazing while on horseback heading up their exclusive trails through the majestic Gros Ventre Wilderness. There you will find the most breathtaking views of the Teton Mountain Range while enjoying the serenity of the Snake River Canyon. From beginner to experienced, riders of any ability will have an enjoyable time.
At Swift Creek Outfitters, you can find some of the most remote & unique hourly trail systems in the Jackson Hole area. There are quite a few creek crossings, flowered trails, wildlife and not only that, you'll experience some of the best views of the Teton Mountain Range! If you're into more than just riding, Swift Creek Outfitters also offers pack trips up to 5 nights / 6 days in the Teton Wilderness and the Bridger Teton National Forest! Be sure to stop in and check them out.
If you're looking for an exciting and unique family vacation experience then look no further! Venture into the past and relive the American Wild West on a Teton Covered Wagon Train and Horse Adventure. Ride in the Caribou-Targhee National Forest in covered wagons for an incredible trek full of majestic views and wildlife. Gentle riding horses are available for those who would like to ride from camp to camp or trail ride further into the back-country to visit waterfalls and viewing areas. When you're in Jackson, be sure not to miss this experience!