It's been said that tacos save lives and who are we to disagree, they are and have always been a go to for fun, delicious and easy dining.  Jackson Hole, WY has some of the best Mexican restaurants and eateries around.  Dine in or take out, you can't go wrong with this list of top 10 places to have a fiesta in Jackson!
Merry Piglets was originally founded in 1969 on Crabtree Corner and has been serving Jackson Hole's locals and travelers for over 50 years. From the house-fried tortilla chips and Jackson Hole's favorite salsa to their fresh-squeezed margaritas, Merry Piglets is famous for their fantastic house Tex-mex recipes. Stop in after a long day on the trail or a beautiful day in town. Be sure to try the twisted cowgirl dip as a starter, made up of house queso, ground beef, guac and pico de gallo.
Fiesta Mexican Restaurant is a casual, family-friendly restaurant serving delicious Mexican food. Outstanding authenticity goes into every dish, Fiesta features a large selection on the menu for the entire family. Fiesta is known best for it's no fuss meals, giving you nothing but traditional style dishes at a great price. If you're looking to kick back, relax and enjoy Jackson, grab a meal from Fiesta Mexican Restaurant today!
When you want great tasting Mexican food in Jackson, be sure to head over to Tortilleria y Tacos El Metate. Tortilleria y Tacos El Metate offers a wide array of authentic dishes such as Fajitas, Fresh Tortillas, Tacos and a whole lot more. Using the freshest ingredients, Tortilleria y Tacos El Metate has something for everyone in the family. Hungry for hot and spicy tacos, burritos or an icy cold margarita, call on Tortilleria y Tacos El Metate!
Located near Jackson Hole's historic town square, Hatch Taqueria and Tequilas combines fresh modern Mexican cuisine with a family friendly, lively atmosphere.  Boasting 10 different varieties of fresh tacos that are made with gluten free and non-GMO tortillas. Looking to wet your whistle? Hatch Taqueria and Tequilas margaritas, are made with 100% agave and house juiced limes. Whether dining or enjoying drinks with friends, Hatch Taqueria and Tequilas brings it all together right here in Jackson, WY!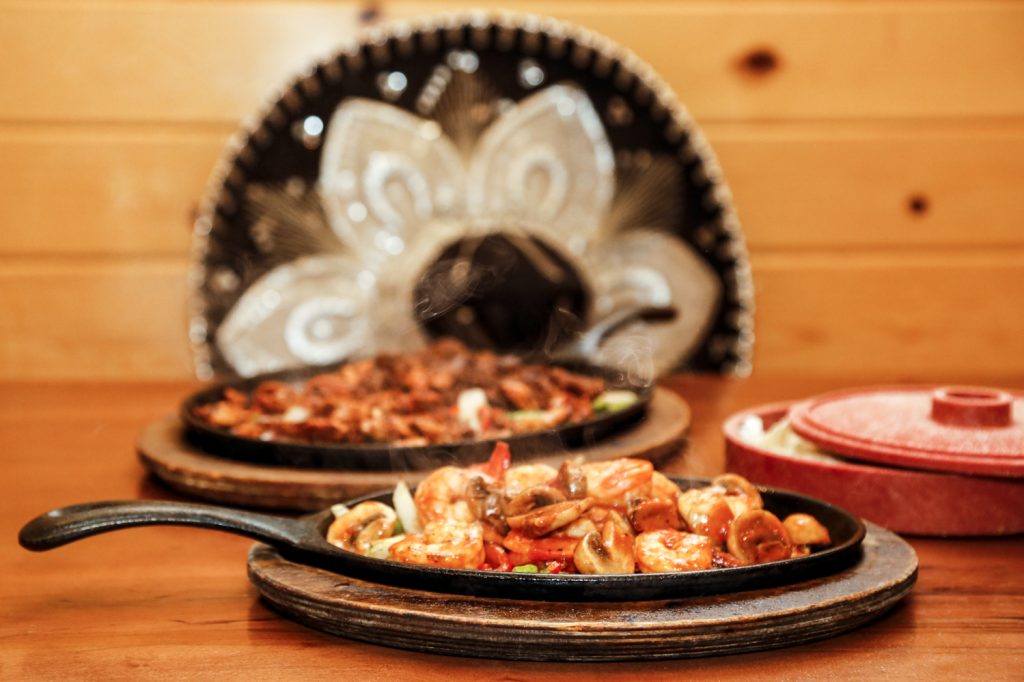 El Abuelito, Spanish for the little grandfather, serves up hot and delicious authentic Mexican cuisine so good that you could just imagine a little grandpa making this food as it comes out. Family friendly atmosphere serving appetizers, lunch & dinner. They have a great variety of dishes that are made with fresh ingredients. Excellent service makes for a wonderful dinning experience. Grab a table today!
When you're visiting Jackson Hole stopping at Pica's to fuel the family for your next adventure is a must. The entire menu is incredible but what really stands out are the burrito's. Nothing fills you up or helps you recover better than Pica's amazingly authentic cuisines. Known well by the locals for their unique margarita blend that hits the spot after a long hike or bike ride. One of our favorite dishes from them is their wet burritos, order any burrito wet to have it smothered in their delicious red sauce. Enjoy a drink and some grub here at their awesome outdoor seating in the warmer months.
Love food trucks? Who doesn't! Some have the best food in town and the Tin Can Cantina is no exception!  Perfectly situated at the base of the Bridger Gondola and the downhill bike park, the Cantina is a great spot for a quick bite, casual lunch or a margarita and chips with fresh salsa and guacamole.  Whether it's before or after you hit the hill for a beautiful hike, an outstanding trail ride, a historic disc golf game or if just for sightseeing, the Tin Can Cantina has just what you need. This spot is only open in the summer so get it while its hot!