Jackson Hole has some amazing bike rides! Not only can you mountain bike throughout the valley, but you can also take some enjoyable road rides with breathtaking views. Here are some of our top favorite Jackson Hole bike rides.
All three of our major mountain resorts, Jackson Hole Mountain Resort (JHMR), Snow King, and Grand Targhee, have great mountain bike trails. They all do charge you to ride up their chairs if you are a downhill enthusiast, but you are also able to peddle both ways for free. Grand Targhee has the most varied terrain, Snow King is steep and challenging, and JHMR has put in a specific bike park with steep, sharp banks and little trick hills.
If you are looking for less "groomed" trails, you can find some great mountain biking trails off Cache Creek and Old Pass Road at the base of Teton Pass. These vary in difficulty, and are mostly in the shade. Be sure to join the rest of the bikers at the Stagecoach Bar afterwards for some Street Food.
As for road biking, Jackson Hole has bike paths throughout town and on the three major highways for several miles. The easiest ride is perhaps from town to Teton Village, long but mostly flat with great views. Another great ride is from town to Grand Teton National Park. It's a gradual uphill with opportunities for wildlife viewing and breathtaking views. For a complete view of the Jackson Hole bike paths, check out Friends of the Pathway.
If you are willing to go off the bike path and on the road, try the Spring Gulch loop (heading North on Spring Gulch from town, turning right on Sagebrush, and then coming back on the N. Highway 89 bike path). It's a relaxing 20 mile loop, with minimal traffic, a gradual incline, and beautiful views of the Tetons, Sleeping Indian, and Jackson Peak.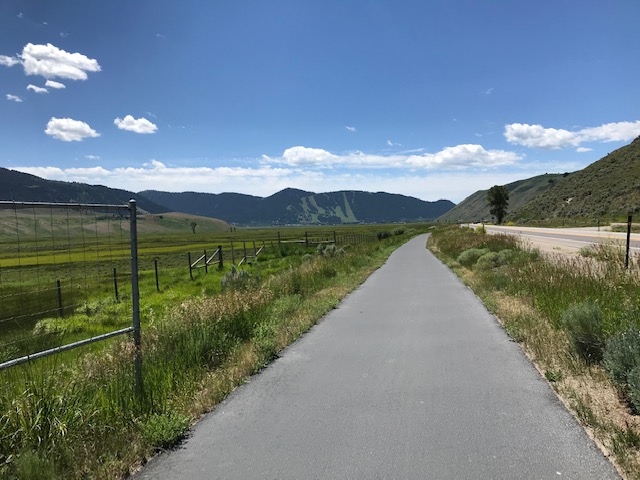 You can also go "around the block", a favorite bike ride amongst avid local cyclists. For the most physically fit, ride up Teton Pass (HWY 22/ ID 33) and down into Victor. Take a left on ID 31 and go through Pine Creek Pass. In Swan Valley, take a left on ID 26. In Alpine, take a left on HWY 89 and ride up to Jackson through the Snake River Canyon. It's about 112 miles, making for a scenic, yet active ride.
There is wondrous variety in our Jackson Hole bike rides. You simply just have to decide where to go and how long you want to be gone.