Endless fields of white powder surround you. You are weightless on cloud nine with the biggest grin on your face imaginable. All you can hear is your breath and the faint hum of something above you. Trees glide past you as if they are cheering you on. You shout in complete glee, not knowing how to contain your excitement! WOOOOHOOOOOO!!!
Suddenly, the alarm goes off. You wake from your slumber only to realize you were dreaming one of the best dreams you have ever had. Saddened, you wish you could get back to that happy, euphoric, out-of-body experience.
It's possible!
Jackson Hole offers exclusive, private "heli-skiing" trips in the backcountry surrounding the area. It entails hopping in a helicopter and being dropped off on top of a mountain in the Snake River Range. Open fields of untouched snow are there for you to carve up and devour! And just when the field ends, the helicopter scoops you up and takes you back to the top.
Currently, there is only one company in the valley that offers this incredible experience. High Mountain Heli-Skiing will take you in the Snake River Range and provide you with 6 heli-ski run (visit their website for current rates). For those vertical feet trackers, it's roughly 12,000-15,000 feet of untracked snow. Lunch is of course included in your adventure and you will be transported from their office helipad. A maximum of 12 other skiers/snowboarders will be in the general region with you, however, there is one guide per 4 skiers in smaller groups.
If you want to make that dream become a reali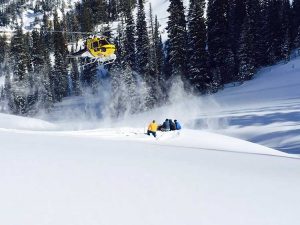 ty, book this incredible, once-in-a-lifetime experience. Jackson Hole heli-skiing is truly a euphoric experience, one that will stay with you for the rest of your life.
While anyone can ski at Jackson Hole Mountain Resort, only a select few get to experience heli-skiing. Who do you want to be? Jackson Hole heli-skiing is the ultimate experience.