The song "It's the most wonderful time of the year"is pretty much on repeat this time of year on the radio, internet, in stores, and on home hi-fi's and with each listen we tend to agree more and more with the lyrics. We'd suggest updating the 1963 classic though with a shout out to Jackson Hole somewhere in the refrain to fully capture the sentiment. Maybe Andy Williams, the singer of this yule tide classic, never made the trip out west to Jackson and somehow still thought it was the most wonderful time of the year, poor guy. Don't be Andy Williams and miss out on what is the most wonderful place to be for the most wonderful time of the year. The holiday season in Jackson, with fresh snow falling on the Tetons, is truly a winter wonderland come to life and should be enjoyed by all at least once. Here's a list of some fun activities for you and your family to check out while visiting the most wonderful place in the West.
Shows & Music
The idyllic town of Jackson pretty much already looks like a stage production of your favorite Christmas production, so why not see a holiday production while in town.
The Nutcracker – The production of The Nutcracker is as much a Christmas tradition as winter snow around these parts. Presented by Dancers'Workshop at the Center Theater in Center For the Arts and performed by the San Diego Ballet and Dancer's Workshop students. This holiday production runs from Friday, December 11 to December 13. Tickets start at just $12 for students for a matinee (including ticket fees) and $30 for adults. Go to www.jhcenterforthearts.org/calendar/events/nutcracker for more information.
Jackson Hole Community Band – Another great tradition for holiday music in Jackson is the Annual Holiday Concert performed by the Jackson Hole Community Band, which takes place Saturday, December 19 at 7 pm at the Center for the Arts Theater. In tune with the giving spirit of the season, this concert is free but they ask that you please bring a non-perishable food item for the local JH Food Cupboard. You'll be treated to holiday favorites as well as new traditions like Cowboy Christmas and music from the Polar Express. For more info go to www.jhcband.org.
Merry & Bright: A Festive Concert of Music & Theater – This chamber music variety show features performances by Cathedral Voices Chamber Choir, Jackson Hole Brass Quintet, Jackson Hole Symphony Orchestra, Treble Voices, and the Big City Broadway Youth Show Choir. With two chances and two different venues to see this great musical performance, December 18, 7pm at Walk Festival Hall and December 19, 3pm at Jackson Hole High School Auditorium. $5 suggested donation. For more info check out www.cathedralvoices.org.
Snowed Inn for Christmas – The Historic Jackson Hole Playhouse proudly presents a production of Snowed Inn for Christmas. The Jackson Hole Playhouse building has been around for 99 years, one of the oldest in town and has been a few different things before becoming the town playhouse in the 1950's. It's a great place to see a show in town or better yet make a whole night of it and get dinner too. Show prices are $32.50 for adults and kids start at $19. For dinner and a show adults are $60 and kids start at $38. Check out www.jacksonplayhouse.com to buy tickets.
Around Town
Santa on the Square – Meet the man, the myth, the legend. You guessed it spend some time with Saint Nick himself at Santa on the Square. Every evening from December 15 – 24 at 5pm – 7pm you can find Santa at his workshop, so be sure to try and butter him up for all those gifts you want for Christmas. Bring your list and plead your case or else you might just get a lump of coal, which around a cold winter wonderland like Jackson isn't such a bad thing either. Makes a great photo op for the kids. For more info go to www.events@jacksonholechamber.com or call 307-201-2309.
Ice Skating – Skating on the Town Square is pretty much a must do activity while you're here. Hey it might even loosen up those over worked skiing legs of yours. It's an idyllic activity that screams holidays and fun in a beautiful Jackson Hole setting. Lace up your skates, take some turns around the rink, and make some memories. Skating on the square runs from December 15 – January 23.
The Historic Wort Hotel's, 12 Days of Christmas – Head to the Wort for their 19th annual 12 Days of Christmas. Billed the "Holly Jolly Happenings for All Ages"you and your family will be sure to find some holiday fun here from December 3 – 29. Whether it's events for kids like the popular cookie decorating, where you'll get to have your cookie and eat it too, to events for families, such as the music performance Jingles in Jackson, featuring Big City Broadway and Pam Phillips or Master Holiday Cocktails for adults. With so much going on at the Wort your best bet is to check out the full schedule at www.worthotel.com.
Chanukah Party – Ain't no party like a Chanukah party, so go get your nosh on December 12 at E. Leaven Food Co. from 6pm – 9pm at the 37th Annual Chanukah Party sponsored by the Jackson Hole Jewish Community. A suggested $10 donation for adults and $5 for children, or pay what you can, gets you in the door and includes yummy latkes, drinks, and dessert. Attendees are encouraged to bring a main or side dish. With plenty of kids activities and dreidel spinning through out the night.
Menorah Lighting – Head to the Town Square on the seventh night of Chanukah for a giant menorah lighting. Learn about this Jewish holiday and sing some Chanukah songs to get in the spirit. Presented by the Chabad Jewish Center of Wyoming at 7pm on the Town Square.
Teton Village
Contrary to what powder hound locals will tell you there is more than just skiing and boarding going on at the Village.
Holiday Cookie Decorating at Teton Mountain Lodge – Yep, it's as good as it sounds, basically a dream come true for those of us with a sweet tooth and some creative flair. Save some room before or after dinner to get your cookie creating on. December 22, from 4pm – 6pm at the Teton Mountain Lodge located on the main floor of the K-bar. Guaranteed yummy fun.
Cowboy Santa at Teton Mountain Lodge – Santa is pretty…pretty…pretty busy around this time of year. When he's not at the North Pole or hanging out at the Town Square you can find him for one night only on December 23 from 5pm – 7pm at Teton Mountain Lodge. This could be your last chance to make sure he knows what you want for Christmas. After visiting with Santa, stick around for a reading of 'Twas the Night Before Christmas.
Interdenominational Holiday Service – Attend an interdenominational holiday service on Christmas Eve at the Hotel Terra Ballroom. Everyone is invited and see what the holidays are all about. The service lasts from 5pm – 6:30 pm.
Shopping
There's still plenty of days left for your Christmas shopping. Check out some local arts and crafts fairs to pick up some one of a kind gifts for your holiday list.
Art Market Days – Shop for the holidays and support local artists too, is a win-win for everyone. Free admission ensures you have more to spend on the locally hand made wares. Wednesday 9am – 5pm, Thursday & Friday 9am – 7pm, Saturday 10am – 5pm at the Art Association Gallery in the The Center for the Arts.
Virginian Craft Fair – With over 40 crafters to choose from. Check out the wide selection of homemade goods that are sure to make great gifts. All that shopping is bound to make you hungry so grab lunch or peruse the bake sale all at the craft fair. Saturday, December 12 from 10am – 4pm at Virginian Convention Center.
Holiday Gift Show – Buy some local art and crafts from some of Jackson's favorite artists including Jenny & Sam Dowd, Abby Paffrath, Valerie Seaberg, and Laurie Thal. Stock up on pottery, jewelry, blown glass, wreaths, paintings, handcrafted clothing, and even chocolate. December 12, from 10am – 5pm at the Old Wilson Schoolhouse Community Center.
Holiday Art Bazaar – You'll find plenty of fine arts and crafts for the holidays December 12 from 9am – 4 pm at the Snow King Resort. Presented by the Art Association of Jackson Hole. Free for members and $5 for non-members. Proceeds benefit the Art Association of Jackson Hole's Education and outreach efforts.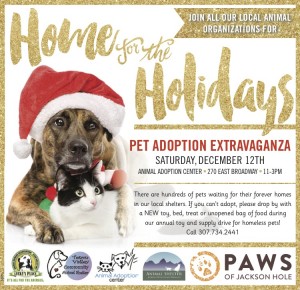 Home For the Holidays – Expand your family and have more to love by adopting an animal this season. Stop by the Animal Adoption Center on December 12 from 11am – 3pm and make a difference in an animals life. With plenty of dogs and cats and needing homes this season, you get a life long companion for the family and a gift your kids will never forget. Or simply come and hang out with the cute critters and make a donation to your favorite animal shelter. For more info go to www.animaladoptioncenter.org.
Dining
Check out any of these fine dining options for your Christmas and holiday dinners. You'll be guaranteed to leave happy and full and you won't even have to do any dishes.
The Wort Hotel – The Wort's famous Christmas Day Buffet runs from 11am – 4pm on Christmas Day. It's famous for a reason.
Hayden's Post – Open for all holidays with special holiday menus and great drink specials. Currently taking reservations for Christmas Eve, Christmas, and New Years, go to snowking.com for more info.
Teton Pines – Looking at the Christmas Eve dinner menu at Teton Pines has us thinking Christmas Eve can't come soon enough. From the wonderful Winter Salad to main entree show stoppers like the Grilled Beef Tournados or the classic Steamed Maine Lobster you and your family are in for a culinary experience. Head over to tetonpines.com to check out all your menu options.
Spring Creek Ranch – We are kind of partial to Christmas buffets as everyone is sure to find plenty of what they want. The Spring Creek Ranch Christmas Buffet is a sure shot to amaze. It's available from 11:30 am – 4pm and has plenty of classics and new classics for everyone. If a buffet isn't your thing or you want to eat later, starting at 6pm you can dine off the regular dinner menu along with plenty of holiday specials.