Winter in our beautiful valley truly provides a canvas unlike any other to experience Jackson Hole and the greater Yellowstone area. Much of the land remains untamed and untouched all throughout the frigid winter season. Though snows and plummeting temperatures may keep many visitors away, snowcoach rides and tours remain a largely untapped resource to enjoy the national parks.
Snowcoaches are specially made for off-road winter travel over snow and ice. These large yellow bus-like vehicles can be equipped with bus-style seating, mounted on tracks, or mounted with monster sized low-pressure tires. The large windows provide near-perfect 365 degrees to more effectively glimpse wildlife hiding in the forest and views of the mountains and valleys that you may pass by on your journey.
Beyond snowmobiling, snowshoeing, and Nordic skiing – snowcoaches are the only authorized vehicle access into the Grand Teton and Yellowstone national parks in the winter season. One of the perks of snowcoach tours is you can cater your experience to enjoy different regions of the national parks, focusing either on canyon and lake views, wildlife tours, or waterfall and canyon tours in a more comfortable and social environment. Snowcoaches may offer a safer and more enjoyable alternative to enjoying a winter vacation than snowmobiling if you are traveling with young children, as well.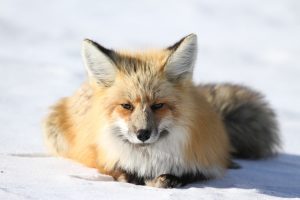 Do you have specific areas you would like to cater your trip into the national park around? There will be many chances to stop for photo opportunities and to view wildlife and awe-inspiring views during your tour. Rest assured you will make many stops during your trip to enjoy the beauty that nature provides, be sure to dress and prepare accordingly for the conditions. On your trip you will have a tour guide who would be happy to personalize the experience, as much as possible, to help create your trip of a lifetime. Many of the tour guides are seasoned locals that have a vast array of knowledge on the history, geology, and wildlife of the area, in addition to, many stories to keep you thoroughly entertained on the drive into the parks and back. Be aware that some regions of both national parks may restrict off-road travel, pending on current weather and road conditions.
Witness the majesty of the views that will surround you from a snowcoach tour; from the sun reflecting off of the unmarked snow, to wolf and elk sitings, to enjoying the stillness and complete quiet the national parks offer in the off-season. Enjoy your time spent exploring both Grand Teton and Yellowstone national parks from the warmth and comfort of a heated snowcoach, book your trip today!