Whether you are a Jackson Hole newcomer, fourth-time visiter, or local, adventure can be found at Jackson Hole Mountain Resort and Teton Village. At the base, at the summit, or somewhere in the middle, one can find beautiful views and enticing attractions.
Teton Village
At the base of Jackson Hole Mountain Resort lives Teton Village. Equipment stores,
clothing stores, restaurants, lodging, and the tram dock all utilize this space. Teton Village Sports boasts a collection of rental bikes, paddle boards, hiking and fishing gear, as well as clothing featuring brands like Patagonia and Black Diamond. Restaurants we suggest include Osteria, Teton Thai, and the famous restaurant and bar: Mangy Moose. The Mangy Moose offers locally sourced food and craft beers as well as live bands throughout the week, creating a perfect space for happy hour on the mountain.
In Teton Village and on the lower mountain, Jackson Hole provides the Grand Adventure Park – a great attraction for kids and adults alike. Paragliding, a ropes course, climbing wall, disc golf, and a mountain biking park are all options at the Grand Adventure Park and are available to you with the purchase of separate passes or the package Grand Adventure Pass.
Aerial Tram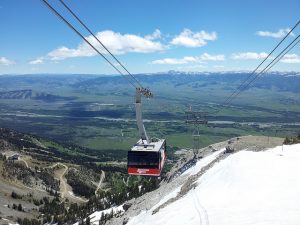 If you would like to explore higher up on the mountain, we recommend utilizing the awe-inspiring aerial tram ride to the summit. In just under 15 minutes, the tram rises over 4,000 feet of ski trails, tall pines, and jagged rock cliffs enabling you access to the ski resort summit. 10,450' high, you can stand above Rendezvous Bowl and Corbet's Couloir as you look out across mountain ranges in all directions. Wedged into the side of the peak sits Corbet's Cabin dubbed "Top of the World Waffles." As its nickname implies, Corbet's Cabin offers waffle selections with unique topping combinations like peanut butter and bacon and hosts a deck where you can relax and enjoy the endless horizon.
From Rendezvous Peak, you have access to hiking and running trails for all abilities that criss-cross the mountain. The trails wrap beneath walls of rock and through meadows of wildflowers. During the early Summer season, you may even come across snow and have the opportunity to start a snowball fight. Along the trails, expect to find wildlife like deer, moose, and fox. You can view the trail map here.
When purchasing tram ride passes, you can select an option that provides you access to other lifts including the Bridger Gondola. The Bridger Gondola brings you to mid-mountain and at the top has a wonderful restaurant and bar called The Deck @ Piste. The outdoor space is great for relaxing, soaking up sunshine, and cocktails after a hard day of hiking or recreating. For tram ride rates for yourself and/or your family, visit Jackson Hole Summer Tram.