Are you looking to take a little dip out in Mother Nature? Soaking in hot springs near Jackson Hole can be a relaxing way to spend an afternoon and an even better way to release all those tight muscles. We can't think of a better way to enjoy what Mother Nature has to offer us, so take a soak and enjoy the hot springs near Jackson Hole and the surrounding area.
Granite Hot Springs
One of our favorites is Granite Hot Springs, a magical place located about 40 minutes south of the town of Jackson. Wind your way through Hoback Canyon and drive up Granite Canyon about 8 miles. Signs will direct you up this cute little path where this developed hot spring pool awaits you, ready to wash away all the stress of the day. As you submerge yourself in the 100+ degree water, the sound of the wind in the trees and the view of the rocky cliffs and thick forest around you gives you a sense of peace. Granite Hot Springs does vary in temperature, with colder water in the springtime during melt-off and warmer waters during the late summer and early winter. There are also small changing rooms and a minimal fee for entrance. This is a great day activity for the kids and there is a bonus waterfall just below the hot springs that is a great picnic spot!
Astoria Hot Springs
Astoria Hot Springs is next on our list. What makes its location so fabulous is that it sits perfectly on the side of a raging river in the Snake River Canyon just south of Hoback. The Astoria red bridge is the marker for this undeveloped hot spring. Park in the boat launch area and walk upstream along the river, as if on some mystery hunt. Kinda exciting, huh? You will know you have arrived when you are able to smell sulfur and see some rock pools. These hot springs are on the toasty side and are sure to test even the most avid hot springs lovers. Astoria Hot Springs offer excellent views of the Snake River Canyon. The best time of year to visit these hot springs is between August and April when the river is lower.
Yellowstone's Boiling River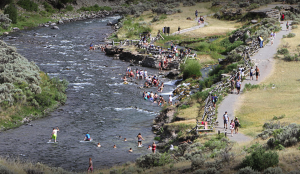 Yellowstone's Boiling River makes for a fabulous stop on your trip through Yellowstone. From autumn through winter, the Gardiner River becomes a hot tub where Mammoth Hot Springs feeds into the river and warms the water perfectly. If you come to early, the river flows too high and the water just simply isn't warm enough. Look for the "45 Parallel" sign on the highway and drive south about 3 miles to a parking lot on the east side of the road. Just upstream from this parking lot, there's a great little swimming area perfect for a nice warm soak. 
Heise Hot Springs
Heise Hot Springs is a great option for those travelers coming in from the west. This developed hot spring sits on the bank of the South Fork of the Snake River near Ririe, Idaho and has both a hot pool and a large swimming pool. Heise Hot Springs has a small quaint restaurant, making it a perfect spot for a relaxing afternoon after fishing. Heise also has a great water slide that's open in the summer and is only a short hour and 20 minutes away from Jackson Hole.
Chico Hot Springs and Lava Hot Springs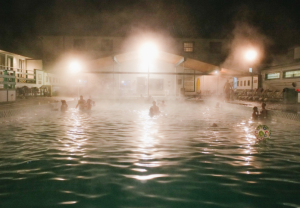 Two other notable hot springs in the area well worth the trips are Chico Hot Springs and Lava Hot Springs. Both are developed and are nice places to stay. We would also mention that there are several different pools in Lava with varying degrees of heat, and Chico has a fabulous 5-course dinner to die for and a delightful spa. Both are well worth the trip!
Hot springs near Jackson Hole are delightful ways to relax and unwind. Soak, relax, and enjoy Mother Nature at it's finest. After all, Jackson Hole has everything you need to recharge yourself!