Choosing where to stay on your vacation to Jackson Hole can be a bit of a confusing process. Depending on the season and the activities you have in mind, proximity to town or to the ski resort will play an important role. You want to make sure to factor in your plans for transportation, where you would like to dine out most, and how often you might want to visit Grand Teton National Park or Yellowstone National Park. It is important to note that the town of Jackson and Teton Village are separate areas that require planning to be able to experience both. Here is the basic run down on choosing to stay in either Teton Village where Jackson Hole Mountain Resort is located or the town of Jackson itself.
Teton Village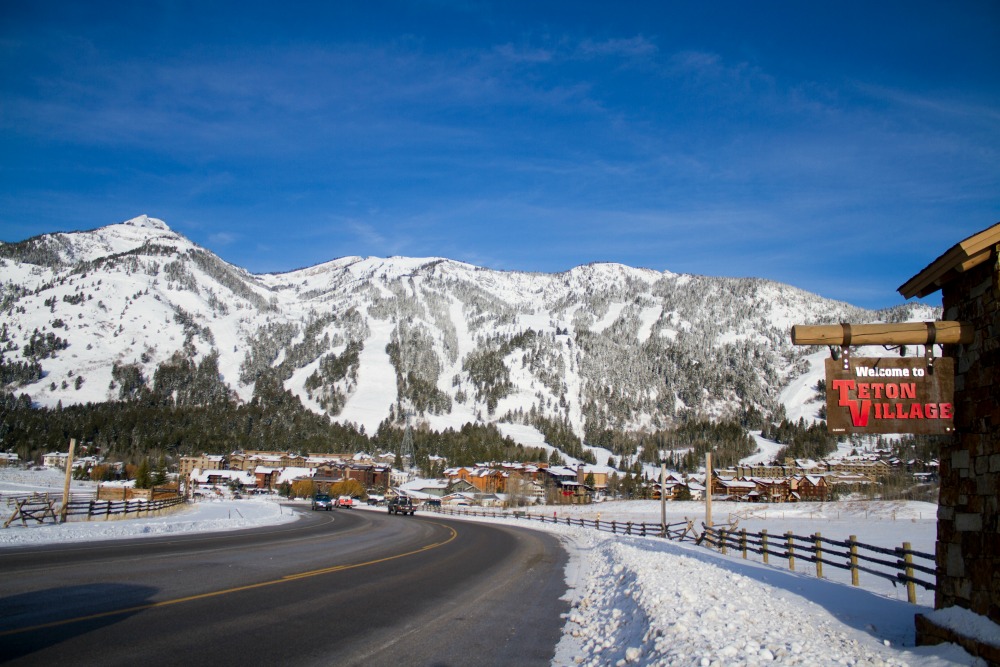 Teton Village sits right at the base of Jackson Hole Mountain Resort, about twenty minutes away from downtown Jackson, and offers a beautiful and scenic backdrop to your vacation. Views of the resort itself, Sheeps Mountain to the east, and the wide open valley in between create a peaceful and serene environment for you and your family to enjoy. Though there are limited dining options in Teton Village, they do include some of the best restaurants in the valley, including one of the best Thai restaurants. The ease of access to the ski lifts, rental shops, and apres scene make for an easy one stop shop for all of your skiing needs. The Mangy Moose Saloon is also one of the valley's only live music venues around. If you plan to stay in Teton Village, renting a car will greatly expand the options you have for dining and ease of access to town and the national parks. While the local bus system, known as the 'Start Bus', is inexpensive and easy to navigate – it does stop running after a certain hour making your options for a night out in Jackson a bit more limited. Be sure to plan for your own car or a taxi. Grand Teton National Park sits adjacent to the ski resort but due to winter closures, visitors are forced to navigate back through town and out to the park along the outer park road, another reason to plan for your own vehicle.
Town of Jackson
Planning to stay in the town of Jackson throughout your winter vacation will provide a different experience of the local nightlife and culture. Your options for dining are greatly expanded and you sit about twenty minutes closer to the national park for those scenic winter drives and wildlife viewing. You will be able to depend a little less on the need for your own rental car but a bit more on the local bus system to get to the ski hill during the day. There are also more hotels to choose from at varying price points. You will have access to some of the other scenic areas of the valley that locals love like the Cache Creek trail system or the National Elk Refuge.