While many avid skiers flock to Jackson Hole each winter to revel among the majestic terrain and top tier snow conditions, others who may not be so avid like to do so as well, and are in need of ski gear to get the most out of their trip. Whether they are beginners, ex ski bums who gave up the lifestyle and ditched their gear, or even avid skiers who trashed their skis or board on their last trip, Jackson has plenty of options for you to rent great ski equipment. If you fit into one of these categories or even if you are just wanting to try out some new gear to see if you would like to buy it, read on to see our breakdown of some of the different options for ski rentals in Jackson Hole.
Door 2 Door Ski Rental Delivery
With Door 2 Door Ski rentals, there is no need to rush into a rental shop the morning of going skiing, wasting precious time that you could be spending on the slope. D2D will come to you, in the comfort of your lodge, private residence or hotel room and custom fit your ski or snowboard rental equipment to suit your needs when getting out on the JHMR terrain. Our reservations agents can arrange D2D Ski Rentals with your lodging reservation and you get 20% off too!
Jackson Hole Sports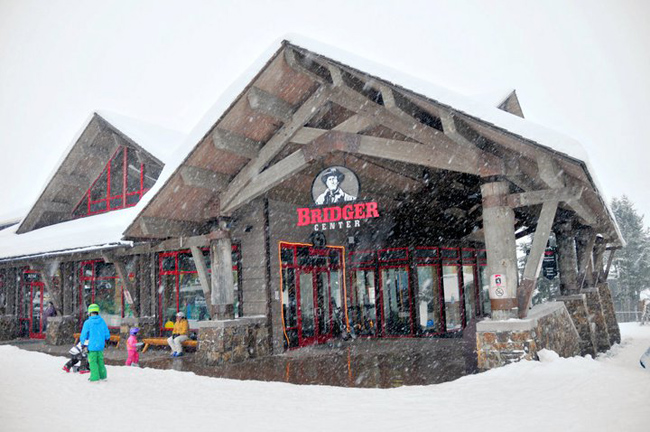 While there are a few rental shop locations right in Teton Village, Jackson Hole sports is located just a literal stone's throw from the Bridger Gondola and the other base lifts, essentially right in the thick of Jackson Hole Mountain Resort. JH sports has a massive rental inventory and also serves as a full service ski and snowboard tuning shop. Their rental options range from beginner to intermediate equipment for both skiers and riders. They also offer top of the line demo skis and snowboards designed for all ability levels and snow conditions. The helpful staff will get you on the right ski or board for you, making sure that boots fit properly and have you on the snow in no time. JH Sports also has a wide range of apparel, gear and more in their retail shop as well.
Teton Village Sports
Another favorite in the village for renting ski equipment, TVS is located at the base of the ski resort right next to the Mangy Moose Saloon and one building over from the aerial tram. They have been in business for over fifty years helping customers at JHMR get fitted and get pitted. Similarly to JH sports, TVS offers gear and equipment for skiers and riders of all skill levels, as well as a great retail selection.
Hoback Sports
If you happen to be staying in the town of Jackson rather than in Teton Village, Hoback Sports may be the best option for you as you can take care of sorting out your rental gear ahead of time before making the trip to the village, or even if you plan on staying in town to ski Snow King. Hoback Sports provides everything that TVS and JH Sports offer with the addition of touring skis & boards as well as fat bikes. To sweeten the offer even further, you can buy JHMR tickets at Hoback and there is a bus stop right outside of the store that will take you to Teton Village.