Jackson Hole is the perfect vacation destination any time of year. While we are sure there is no end to the areas you want to explore, our team has curated a list of our Top 10 Things in Jackson Hole You Can't Miss, to assist if you find yourself with any free time during your trip.
1. Picnic and swimming at Slide Lake in Grand Teton National Park
The lakes of Grand Teton National Park are unmatched in their stunning beauty below the majestic Grand Teton and the nearby mountain peaks. With plenty of seating, shade, and the scenic beauty in all directions, a summer day in Jackson isn't complete without a picnic at Slide Lake. You may just glimpse some wildlife across the lake while enjoying your meal.
2. Take a photo under the famous antler arch on the Jackson Town Square
There is a chance you have seen tourist photos of your friends under one of the four Jackson antler arches that frame the Famous Town Square. This is the perfect photo opportunity in town that delights visitors of every age. Make sure to get your picture when driving through town to the national park.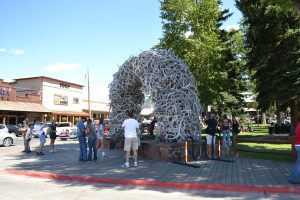 3. White Water Rafting on the Snake River
For the true adrenaline junkies that come and visit Jackson Hole, a trip isn't complete without a whitewater trip down the Snake River. Water levels can be dangerously high at the beginning of the season and tend to taper off towards August and September. Plan your whitewater trip according to what type of group you will be traveling with. Different rapids come out on different water levels in the river, rest assured, your whitewater experience is sure to be a thrill unlike any you have experienced before.
4. Mountain Biking up Cache Creek
A network of trails connecting to different regions in the valley makes Cache Creek a popular choice for dog walkers, hikers, and mountain bikers alike. Don't worry if you don't have a bike and helmet with you, there are a multitude of bike shops in the town of Jackson that would be happy to get you set up for a day spent on the trails. Mountain biking is a great activity to enjoy with kids, as well.
5. Bar J Wranglers Chuckwagon Cook Out
The world famous Bar J Wranglers call Jackson, Wyoming home. We hope you'll have the chance to visit their dinner and show. They will tell the tales of 1800s cowboys, share some comedy, and play live music throughout the night while you get to enjoy your delicious and authentic western meal.
6. Shopping on the Famous Jackson Town Square
A trip to Jackson can't be complete without spending some time on the Famous Town Square. The square is, also, rich with history. Visit some of the most iconic locations on and near the square that have been here for generations, like Yippy-I-O Candy, The Wort and the Jackson Hole Playhouse. Some new and fun shops in town, include Lee's Tee's, the Jackson Trading Company, Pendleton Blankets, and a large variety of amazing art galleries.
7. Looking for Wildlife in Grand Teton National Park
Perhaps one of the biggest draws for tourists to Grand Teton National Park is the local wildlife. The active animal scene provides quite a thrill for visitors from different regions of the world. Bears, moose, elk, deer, marmots, foxes, and coyotes are all commonly seen mammals in the park. Be sure to bring binoculars for a chance to see bald and golden eagles in Alpine Canyon, as well.
8. Sunrise Landscape Photography at Schwabacher's Landing
Photographers from all over the world travel to Grand Teton National Park for its unmatched landscape photography opportunities. The golden hour just before sunrise provides the perfect backlight to frame the majestic mountain peaks, sprawling valleys, and alpine covered canyons for photos. Schwabacher's Landing is one of our favorite scenic destinations if we have time for pictures on a trip.
9. Huckleberry Ice Cream at Moo's Gourmet Ice Cream
Is any idyllic summer day complete without an ice cream cone? Huckleberries grow in the region and can't be replicated by any commercial production process, making them a true delicacy. You may see an extensive line outside of Moo's in the summer months, but don't let that deter you from trying the delicious huckleberry ice cream inside. For a true locals experience, we recommend even enjoying your ice cream across the street at the famous Jackson Town Square.
10. Farmer's Markets on the Famous Town Square
Local farmers and food artisans from all over the region and the United States come throughout the summer to the Jackson Farmer's Markets on the Famous Town Square. There are all sorts of novelty foods and produce to enjoy, from specialty grilled cheese sandwiches to lavender lemonade. Farmer's Markets last until noon on Saturday mornings in the summer. There truly is something for everyone in the family to enjoy.
Take a trip out west and discover the excitement and adventures to be had for yourself in Jackson, Wyoming. Our team is standing by to answer any questions you may have about planning a trip to our favorite place to be on earth!