When visiting Jackson Hole, it is a must to get out in the vast nature of the valley, and there are a number of ways to do so. One of the more unique options that you don't have the opportunity to do any given day is taking a dog sled tour. Jackson Hole Iditarod offers tours through Granite Creek Canyon, which features granite hot springs, and Bridger Teton National Forest from as early as late November through late March/April.  These scenic trips will lead you to areas with plenty of wildlife including deer, elk, moose, bighorn sheep, and bald eagles. You can even lead a team of dogs on your own if interested with a brief orientation session.
The Dogs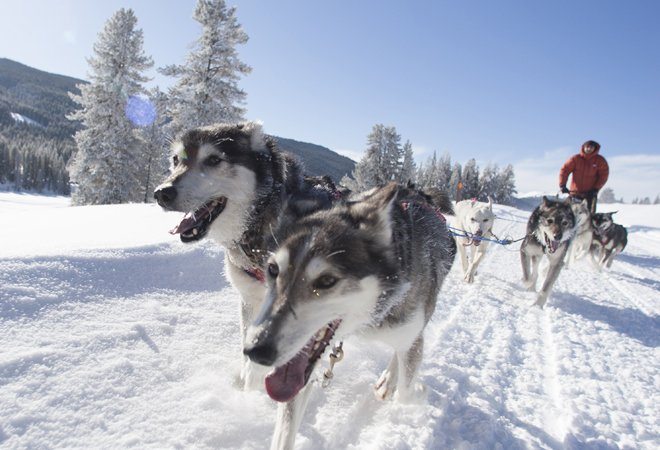 With 170 authentic Alaskan racing sled dogs that are manageable, athletic, well-trained and above all else, friendly and affectionate, your trip will be made simply by being in their company if nothing else.  The dogs are descendants and siblings of others that have raced in and won the Iditarod. These Northern Huskies will melt your heart, and make your trip well worth it.
Trips
Jackson Hole Iditarod offers both half and full-day excursions. The full day trips include a hearty lunch, hot soup and beverages and provide enough time to stop and swim in the warm Granite Hot Springs. Half day trips also include hot beverages and soup but lunch is not included, and the trip does not travel all the way to the hot springs. Both trips start with a pick up in Jackson at 8am with the half day ending at approximately 1:30pm and the full day ending around 4:30.
Located 30 miles southeast of the town of Jackson, this man made pool was built from a natural pool that previously existed and features a campground, changing room, and deck. If you are feeling like you want to be more connected to nature there is another natural spring pool just downstream. The pools are only accessible during the winter via skis, snowshoes, snowmobile or dogsled, and the temperature of the pool can get up to 112 degrees fahrenheit. If you are hoping to make it to the springs on a dog sled tour be sure to book a full day trip.
So what are you waiting for? Mush! Mush! Book your trip now as Jackson Hole Iditarod has limited availability.