For those who desire to go fast and travel to far reaching winter wonderlands that are otherwise inaccessible through most common means of transportation, snowmobiling is the activity for you. Snowmobiling near Jackson Hole is more than just a fun way to get around, because of the vast wilderness in the valley and nearby areas that are difficult to navigate due to harsh, deep snow in the winter. With a snowmobile and a knowledgeable guide you can visit serene lodges, hot springs, and peaceful meadows.
Togwotee Tours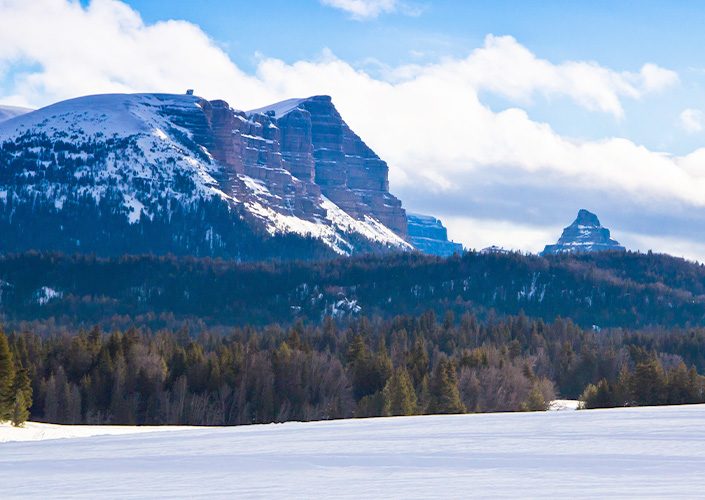 One of the most popular locations for snowmobiling near Jackson Hole is just northeast of the town of Jackson in the Bridger-Teton National forest surrounding Togwotee pass. Togwotee Lodge Adventure Tours offers rentals and guided tours through the region. They have a variety of different tour options near Togwotee pass and all around Jackson Hole, ranging from scenic trail rides great for viewing wildlife and scenery to off-trail riding tours for those looking for a more aggressive ride through vast powder fields. One of Togwotee Lodge's most popular tours is the Brooks Lake Lodge tour, which takes you through the continental divide trail system, through to Brooks Lake lodge, only accessible by snowmobile during winter, just in time for lunch. The historic lodge sits right next to Brooks Lake, and offers beautiful views of the Breccia Cliffs and Pinnacle Buttes not to mention the delicious gourmet food. 
Granite Hot Springs Trip
Another popular tour that both Togwotee Lodge and Scenic Safaris offer is the Granite Hot Springs trip, which takes you to the gorgeous and toasty warm hot spring pool. The pool itself is man made but the spring which produces the water is natural. This trip takes you through the Gros Ventre Mountain range to around 7,000 feet above sea level, where the hot springs serve as mid-way point on this out and back trip. Guests should come prepared with a bathing suit under their clothes to enjoy the pool which can reach temperatures of up to 112 degrees Fahrenheit. This trip is perfect for when you need a well deserved break from skiing and snowmobiling.