Sure, a vacation with children can be a challenge. Keeping them entertained and engaged while trying to enjoy your time off as well can be stressful, negating the reason for your vacation in the first place. But not in Jackson Hole… While you might occasionally have to give in and take the kids to Disneyland, you and children can both have a rewarding and relaxing vacation in the Old West.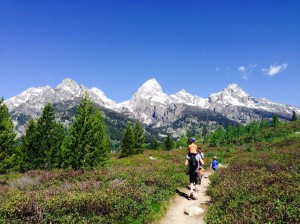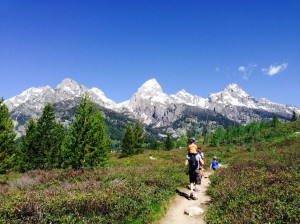 So what's so great about a vacation with children in Jackson Hole? Let's break it down to seasons…
Throughout the Year
Jackson Hole has three museums and several visitor centers that are kid-friendly. The Jackson Hole Children's Museum is located in Jackson and has a wealth of activities for your wee ones. There is also the Jackson Hole Historical Society and Museum located on Cache in Jackson and the National Museum of Wildlife Art on HWY 89 North of Jackson that have kid-friendly sections. The Jackson Hole Visitor Center on North Cache provides opportunities for children to learn about local area wildlife and offers views of the Elk Refuge.
Hole Bowl in Jackson offers year round entertainment with several bowling alleys and arcade games for the children. We have a recreation center that offers swimming and basketball courts. We also have two movie theatres, the Twin Cinema and Movieworks, with all the latest Hollywood hits.
We have two prominent babysitting companies, Playtime in the Tetons and Jackson Hole Babysitting, that can accommodate you where-ever you are.There is also a Kid's Ranch at Jackson Hole Mountain Resort that can provide child care while you ski and also has several summer activities for children.
Winter
In addition to skiing at Snow King, Grand Targhee and Jackson Hole Mountain Resort,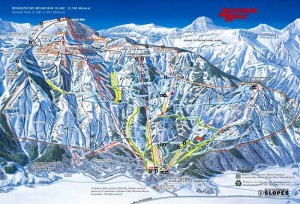 there are plenty of opportunities to entertain your youth. There is sledding at King Tubes in Snow King as well as in the commons area of Teton Village and the beginner's slope at Grand Targhee.
There are Moose hockey games at the Snow King Center and ice skating at the rinks at Snow King's base and Wilson's Owen Bircher Park. There are Elk Sleigh Rides at the Elk Refuge, ice fishing on Slide Lake near Kelly (bring your own gear), and snowmobile rides in Yellowstone, Togwotee Pass and Granite Hot Springs.
Summer
The wealth of activities multiply at this time of year.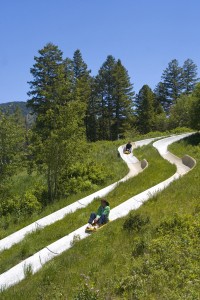 There is the Cowboy Coaster, the Alpine Slide and a mini-golf course at Snow King.  There are rock climbing walls in Teton Village commons area and at the base of Snow King. We have a shoot-out on the Town Square every night of the summer (except Sundays).
In addition to white water rafting on the Snake River through several companies, (Mad River, Sands, Jackson Hole Whitewater, Lewis and Clark) you can rent boats, paddleboards and canoes to explore many of the lakes in Grand Teton National Park. And speaking of Grand Teton National Park, there are three Visitor Center/Discovery Museums at Moose, the Rockefeller Center and Colter Bay that are perfect for young ones.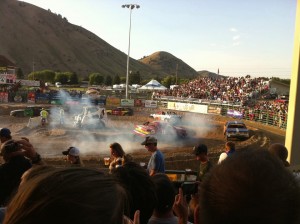 There are hiking trails throughout the valley that are flat and short or long and steep depending on the skill level of you and your children. And if you are feeling truly adventurous, you can go Tandem Paragliding at Teton Village, go on a trail ride from Teton Village, Jackson Lake Lodge or Colter Bay Village, or visit one of our ropes courses at Teton Village and Snow King.
We also have a Rodeo that runs every Wednesday and Saturday night of the summer and the Teton County Fair that happens the last week of July (July 21-30th) at the Fairgrounds.

Always
There is plenty to do in Jackson while on vacation with children. There are also plenty of babysitters that will take your kids to the pool which you get some relaxation time.
Trust us, Jackson Hole is a mini- Disneyland for adults and their children (with real animals…not cartoons)! It doesn't get better than this!