Prepare to fall in love! That's right, if you are visiting Jackson Hole for the very first time, you are about to fall in love. Jackson Hole is THE EXPERIENCE! Everything you want in a summer's holiday wrapped up in a Old West town and valley bordering two wild and scenic national parks. Who could ask for more? But it's important to at least hit the highlights, so here's a 1st timer's guide to Jackson Hole in the summer to make sure you get the most of your trip!
You will want to experience a bit of the Old West. Try to make it to the ShootOut on the Town Square and a Chuckwagon Dinner at Bar T. If you have extra time, be sure to go on a horseback riding excursion either up at Spring Creek or out in Teton Village, visit the Colter Bay Visitor's Center and the JH Historical Society's Museum to get a taste of our history, take a ride in our Stagecoach on the TownSquare and get a souvenir photo at Old Time Photos. The famous Cowboy Bar also has saddles for bar stools and is a great spot from a quick photo opportunity.
A must do for Jackson Hole is a float on the Snake River, either in the rapid section of the "Canyon" for those adventurous types or the scenic section through Grand Teton National Park for those sightseeing types. Mad River and Jackson Hole Whitewater are great options for the Snake River Canyon and Barker Ewing and Solitude are great options for a float through Grand Teton National Park.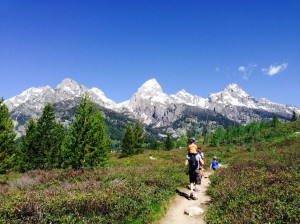 Jackson Hole is all about it's outdoor activities, hiking being one of the most common with so many hiking trails. In Grand Teton National Park, the most popular destinations are Taggart and Bradley Lakes, Jenny Lake/Hidden Falls, and the John D Rockefeller Center. These hikes are not super strenuous, make for a great ½ day activity, and offer plenty of opportunities to see wildlife, especially if you go extremely early.
We have wildlife!!! Lots of it! But in order to see these sneaky little (and large) friends, you have to put a little effort in. Get up early and drive down Moose Wilson Road (WY 390) extremely slowly. Stay up in Yellowstone for a night and find a nice lazy stream that you can overlook from the safety of your car. Be patient. Bring binoculars. When you see a couple of cars stopped, it's likely elk or a moose. If you see a lot of cars stopped, it's a bear or a wolf. Have those cameras ready!!!
You must visit Yellowstone and at least plan to spend one day there. You can drive the lower loop of the figure 8 that is Yellowstone in a day but be aware…you will be coming back. Yellowstone's natural geological features are AMAZING! Be sure to visit Old Faithful! Visit the Lamar Valley in the early morning or late evening to see wildlife.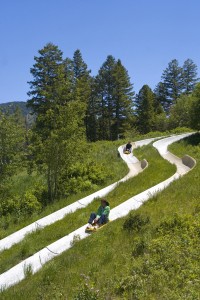 If you have some extra time, there are several other 1st timer's activities in Jackson Hole that are extremely enjoyable. Consider spending a day on String Lake and be sure to bring your paddle board, kayak or canoe to travel over to Leigh Lake. Visit Teton Village and ride our Aerial Tram to the top of Glory Bowl then spend the afternoon enjoying the numerous activities out there. You could golf at one of our many delightful golf courses or rent ATVs and tour through the Gros Ventres. Also consider taking an exciting ride on our Alpine Slide and Cowboy Coaster at Snow King Mountain!
What's not to love about Jackson Hole! If you are a 1st timer here, you will leave immediately wanting to come back! The plethora of activities, our delectable summer weather, and the wildness and beauty of the area make Jackson Hole THE PERFECT SUMMER ADVENTURE!